Almonds, hazelnuts and citrus biscuits
In these biscuits you can find all the taste of the Citrus...They are perfect also as home-made Christmas gift.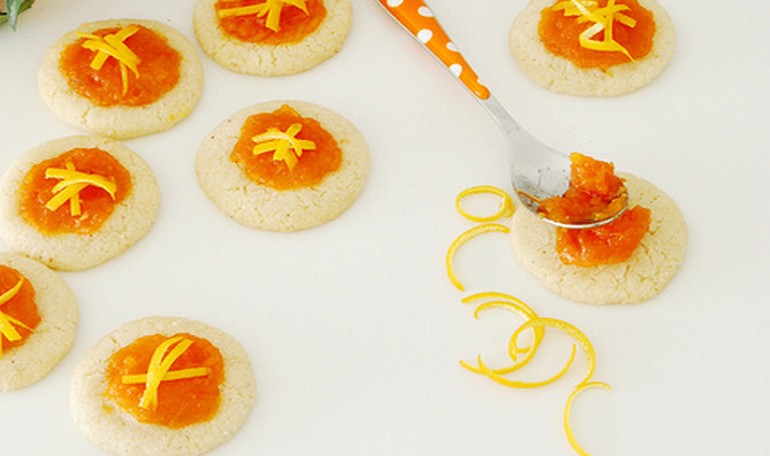 Ingredients
---
- 50g peeled and toasted almonds
- 50g toasted Hazelnuts
- 100g white sugar
- 1 orange
- 2 tangerines
- 100g butter
- 100g 00 flour
- 1 pinch of salt
- "Natura & Tradizione" Ace Vis jam
Preparation
---
Finely chop in the mixer almonds and hazelnuts with 50gr of sugar until you get a flour. Put it in a large bowl and add the remaining sugar, the 00 flour, salt and stir. Grate the peel of tangerines and add them to the mixture. Add also the butter, cutted into small cubes and mix all using your fingertips until you get a compact dough.
Heat the oven to 170°c and cover a baking tray with parchment paper. Divide the dough in 26 small pieces and use them to forme 26 balls. Place them on the baking tray and bake for 14 minutes. Peel the oanges with the vegetable peeler and cook the rind for 2 minutes in a saucepan with boiling water. Drain it and cut into strips.
Complete your biscuits with a teaspoon of jam and some orange zeste.