Tart with crème patissière and cherries
The tart with crème patissière and cherries, is a fresh sweet perfect for this season. It is wonderfull to see but all over the all very tasty to eat.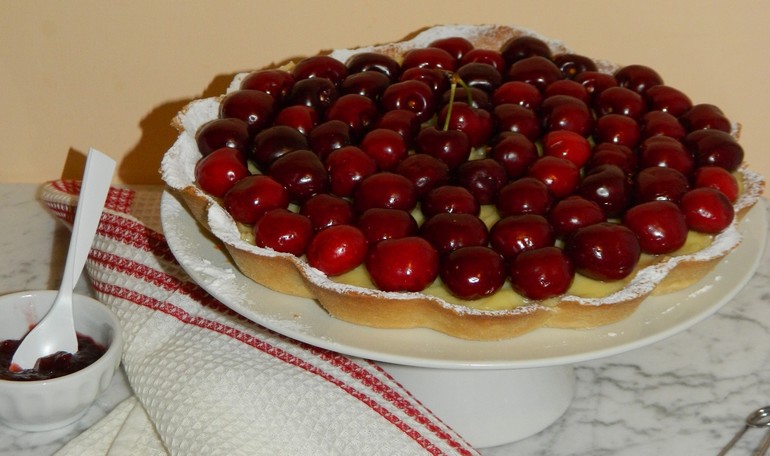 Ingredients
---
Ingredients for the short pastry:
- 300g flour
- 150g sugar
- 130g butter
- 2 eggs
- lemon rind or little packet of vanillin
Ingredients for the crème patissière:
- 500ml milk
- 250g sugar
- 4/5 egg's yolks
- 50g flour 00
- 50g butter or margarine
-aroma vanilla
Ingredients for the decoration:
- cherries Vis jam
- 500g cherries
Preparation
---
Prepare the shortcrust pastry and store in the fridge for 2 hours, or still better for the all night. Then prepare the crème patissière.
Spread using a rolling-pin the short pastry on a previously floured work surface, then put it into a cake-pan previously buttered and floured. Using a fork make a lot of hole over the dough. Cook in a pre-heated oven to 180° for 20/25 minutes.
Let it cool and assembly the sweet: make a layer of cherries Vis jam and then a layer of crème patissière. Garnish all with cherries previously washed.