This is a very particular recipe that releases all the aroma of the buckwheat flour, the cinnamon and the vanille, in addition to the freshness of blueberries. It's perfect for a healthy breakfast or snack, but also in every moment of a day.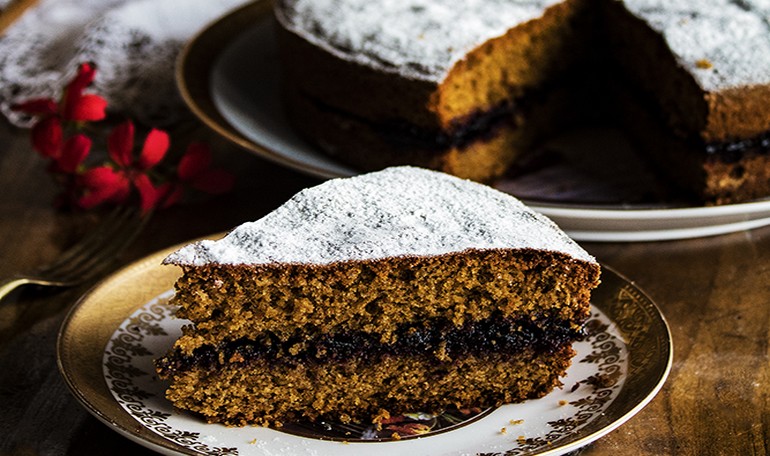 Ingredients
---
- 125g buckwheat flour
- 50g nuts flour
- 1 tea-spoon of yeast
- 25g di breadcrumbs
- 1/2 tea-spoon of powdered cinnamon
- 80/100 ml seeds oil
- 3 egg, keep separate the yolks and eggs white
- vanilla arome
- 125g natual brown sugar
- 50 ml organic apple juice
For the filling:
- 125g blueberries "Natura & Tradizione" jam
- icing sugar
Preparation
---
Mix the buckwheat flour with the nuts flour, the yeast, the breadcrumbs and the cinnamon. In a robot machine work the butter with the yolks, the vanilla and the sugar, until you obtain creamy mixture. Continue to mix and add the flour and the apple juice. Delicately add the albumens previously whipped at snow. Pour the dough into a cake-tin (diameter 23cm) previously buttered and floured. Cook in a pre-heated oven to 170°C, prick with a toothpick, when it comes out clean the cake is ready. Let it cool and cut it in two part, stuff it with blueberries jam. Sprinkle with icing sugar before serve..