The word from the nutritionist
Where does the vitamin C hide itself?
Everyone knows how much the vitamin c is important for our organism to work well, but where can we find this precious vitamin? Which foods contain the major quantity of them? Which are our daily basic necessities?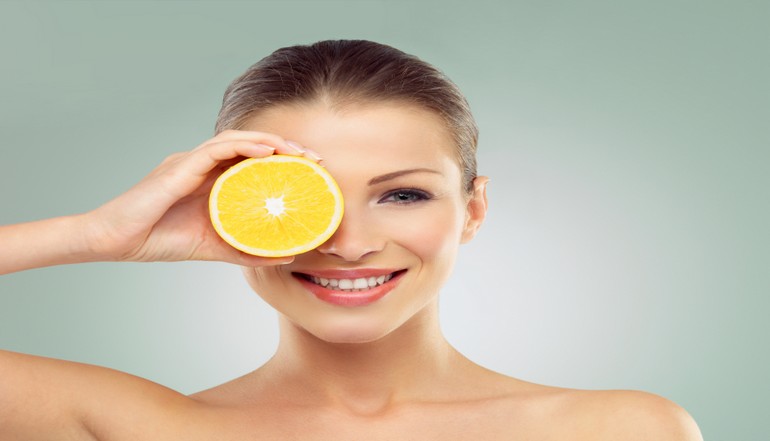 Among the richest fruits of ascorbic acid in the common use (expressed in mg/100g) we can find: currants (200 mg), kiwi (85 mg), strawberries and clementine (54 mg), oranges and lemons (50 mg), tangerines (42 mg), grapefruit (40 mg), melon (32 mg), raspberries (25 mg), persimmon (23 mg) and blackberries (19 mg).
Among the vegetables we can find: peppers (151 mg), broccolis and rocket (110 mg), Brussels sprouts and turnip's leaves (81 mg), cauliflower (59 mg), spinaches (54 mg), cabbage (47 mg), endive (35 mg), celery (32 mg), asparagus and chard (24 mg) and tomatoes (21 mg).
To this classification are then added particular foods such as chili peppers, thyme and parsley, and also tropical fruits such as guava (243 mg), papaya (60 mg), litchi (49 mg) and mango (28 mg).
But among the richest natural sources of vitamin c, we find: at the absolute first place the fruit of the Australian tree known as Terminalia ferdinandiana, which can contain until 5300 mg of ascorbic acid for 100 g of product. At the second place the fruit of camu-camu (Myrciaria dubia), a shrub of Amazonia, which contains about 2800 mg/100 g of it. At the third place there is a fruit which has been spreading just for a few years in Europe: the acerola (Malpighia glabra L.), known also as Barbados' cherry, which contains about 1600 mg of ascorbic acid for 100 g of product. The rosehip contains until 1300 mg of it for 100 g of product.
To satisfy the basic necessities of vitamin c of an adult in the amount of about 60 mg/day, the nutritionists recommend to consume 5 portions of fruit and/or vegetables per day.
The researches highlighted that it is a powerful antioxidant and it protects the cells of our organism against the damages of the free radicals. Moreover it simplifies the absorption of iron, it empowers the immune defences, it stimulates the synthesis of collagen, it supports the metabolism of cholesterol, it has an haemostatic and cicatrizing activity, it intervenes in the major part of the metabolic reactions, it improves the absorption of minerals and it accelerates the elimination of toxic metals.

Published 20 October 2016