The word from the nutritionist
Dry fruit: how and when consume it?
Using the words "Dry fruit" we usually mean the class that includes walnuts, hazelnuts, pine nuts, chestnuts, peanuts, cashews, almonds and pistachios; actually almost every fruit can be dried, so that's why we have to call it nuts.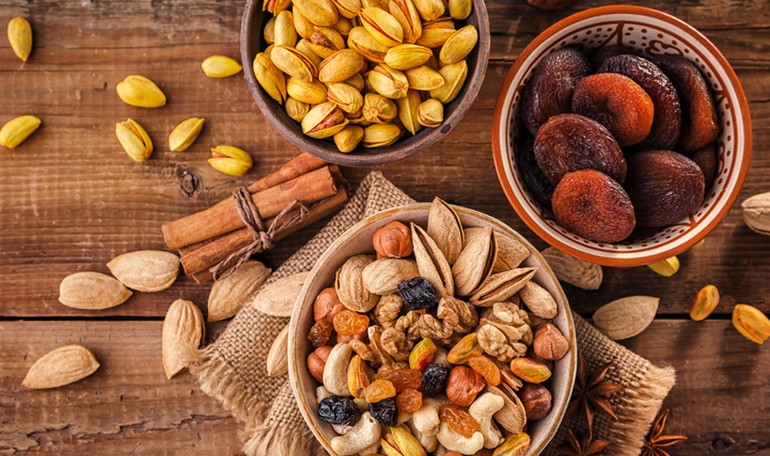 This type of fruit distinguish itself for its good protein (20%), vitamin and mineral content, in addition to the wealth of lipids. It contains also fibres and fatty acids which do a protective action from diabetes, hypercholesterolemia and obesity: the wellness problems. It has many benefits such as its laxative properties and the ability to limit inflammations, helping our liver.
Nuts are for everyone, they're suggested also for vegetarians and athletes thanks to their high energetic potential. However it's important to know how to consume them and how many, because even though they have lots of positive characteristics, the abuse doesn't benefit our health : they're poor in sugars but rich in saturated fats. We should avoid to introduce inside our organism an excessive number of calories compromising the daily energetic budget; therefore it's recommended to don't consume them in elevated quantity and preferably not later or during the principal meals.
A suggestion could be to eat them for breakfast, rather than as sprouts or snack in alternative to other less healthy sources (like animal fat for example) which is very effective because they can reduce the sense of hunger but at the same time give the necessary energy! The nutritionists establish a daily dose of consumption of about 20-.30g, but anyhow they advise against to whom suffers from irritable colon, renal problems, gastritis or gout. As mentioned before, it's also important to pay attention at the way to consume them: trying to prefer the dry fruit with its own hull, that even though it doesn't guarantee the maximum quality of the product, it's healthier than the minced or shelled one. This last in fact, wrapped in sealed containers, contains artificial antioxidants that allow a prolongation of maintenance time and avoid that the fats turn rancid. For toasted and salty dry fruit it's the same thing: it is better to limit its consume to favourite that of still wrapped one in its hull and less treated as possible.
Once these fruits, considered "for elite", were only consumed during the Christmas period or mainly in winter. Over time this custom has gone lost and today they are tasted during the whole year, specialists recommend their assumption in every season. This fanciful food can be in fact inserted with taste and fantasy inside of many dishes, both sweet and salty, starting with aperitifs, passing from starters to firsts and even inside of second course and side dish, finishing they're perfect with fresh fruit or desserts.
Play with some different recipes and savour this crisp fruit tastiness!