The word from the nutritionist
Not all apples are equal
The apples are perfect if you want to do the full of tasty and wellness, not coincidence it is said that "an apple a day keeps the doctor away". But between more than 2000 variety of apples present on our territory, Which is that is the best for us? What is the difference between the different kinds of apples? Let's try to do clarity.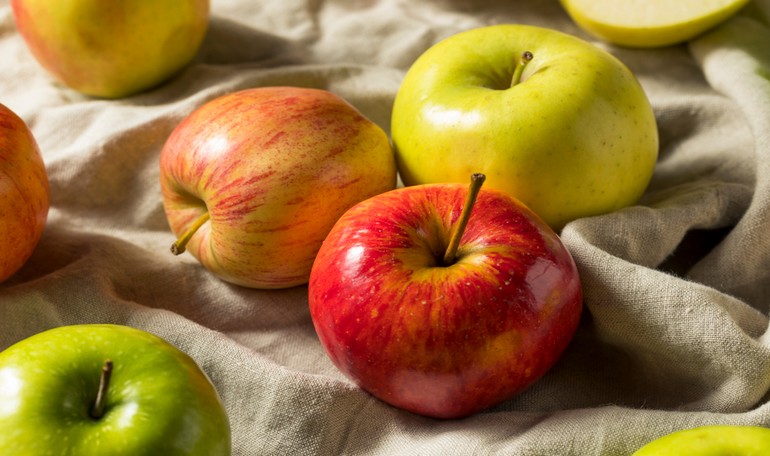 The Golden Delicious: this apple is famous for its sweetness and its crisply, It is very used in kitchen both to prepare salt and sweet dishes. The Golden apple is the principal ingredient of different recipes of our gastronomical tradition (from the grandmother cake to jams), in addition it is perfect also eaten with blue cheeses. One of its particular characteristic is the "pink tone" that the fruits more exposed to the sun have, it is typical of the apples grown up in mountain and it is sign of valuable organoleptic properties.
The Red or Stark Delicious or Deliziosa: it is the classical red apple of Snow White, with a slender shape and 5 points on the fund of the fruit. It has an intensity red colour outside that hides a snow-white colour inside, its flavour is sweet without acidity. It becomes floury very fast when the fruits excided the ideal state of maturation. It is very good to eat natural or joint with the chicken curry.
The Renetta (or renetta of Canada) it the most noble of all. Its name comes from French "reina" that means queen. It an apple for gourmet, not beautiful in the sight with it globular and irregular and its rough peel and often rusty-coloured, but it flavour is unique and incomparable. It is a precious ally for your health because it's rich in polyphenols, that are a type of antioxidants that keep stable also after they are cooked. It's very used in the South Tyrol cuisine as for example to prepare strudel or tasty pancakes.
The Granny Smith: it the green apple par-excellence, it has Australian origin, its peel is brilliant, glossy and intense green. It is very juicy, crispy and with a flavour significantly acid, for this reason it is perfect for the salad: cut it in thin slices maybe mixed with some walnut kernels and scarola.
The Royal Gala or simply Gala: it has New-Zealand origin and it is picked up in August. It has a red colour and a smooth and glossy skin, thanks to the natural waxes contained it is pleasant to touch. It is often used to prepare fruit centrifugated without added sugar.
The Fuji: it is the most cultivated apple in the world and it comes from Japan, as said its name. It is the last to be picked up, it has crispy, firm and succulent pulp. The flavour is refined, with a fruity sweetness and well balanced acidy. It is ideal for roast, braised meat and to prepare jams and jellies.
The Pink lady: it is the new variety of the last years. Its name comes from the pink nuances present on the skin. It has a crispy and succulent pulp, a right balanced between sugary and acidulous and an extraordinary aromatic richness: tasty accents of vanilla, delicate notes of rose, aroma of honey and the acidy of the citrus.
Between the most particular news there is the Shinano gold/yellow with a flavour slightly exotic and tropical with notes of pineapple, honey and rind of lemon.
What type of apple do you prefer?

Published 21 September 2018