Mediterranean flavor muffin (eggs and butter free)
This is a funny idea to bring a little sunshine into a cloudy day. These muffins are prepared using the classic mediterranean ingredeints (ligurian olives, capers and cherry tomatos), a mix of spices, little cubes of cheese and two kinds of flours.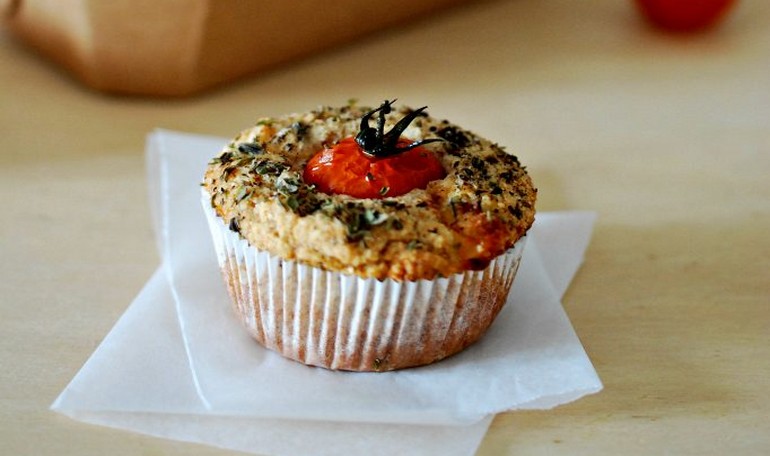 Ingredients
---
- 110 gr white corn flour
- 140 gr whole wheat flour
- 1 teaspoon salt
- 8 gr baking powder
- 25 gr desalted capers
- 12 olives
- 10 cherry tomatoes
- 160 gr primo sale cheese (for me Casa Radicci)
- 300 gr buttermilk
-1 tablespoon of Pesteda Vis
- oregano
- e.v.o. oil
Preparation
---
Preheat the oven at 180 ° C. Put in a bowl all the dry ingredients: flour, salt, yeast and spices.
Roughly chop capers and olives, cut in small cubes the cheese and add all in the bowl: mix everything. Finally add buttermilk and mix quickly with a fork.
Divide the mixture into 10 muffin moulds coated with paper, sprinkle each with a pinch of oregano and complete with one cherry tomato. Season each muffin with 1/2 teaspoon of oil and bake for 25-30 minutes.