Snack prepared with cheeses and sweet-spicy sauce
It is aperitif time? This is the recipe for an ideal snack, very fast to prepare, but able to conquer all your guestes.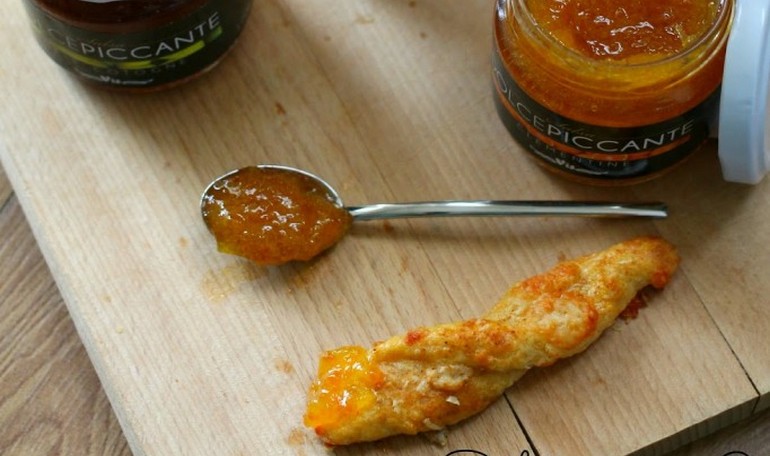 Ingredients
---
- 100g organic flour
- 1 organic yolk
- 1 spoon of hot paprika in powder
- 3 spoons of extra virgin olive oil
- 50g of Asiago cheese
- 50g grated Parmigiano cheese
- 50g grated Swizzerland cheese
- salt
- 1 spoon of milk (only if the dough is too hard)
- paprika and grated cheese to sprinkle on surface
- one organic egg to brush the surface
To accompany:
- Vis clementine sweet-spicy sauce
Preparation
---
In a bowl pour the flour with the 3 kinds of cheese, then add the salt and the paprika. Mix well then add the yolk and the oil, if the dough is too hard add the milk. Work the ingredients until you obtain a soft ball. Spread the dough and cut it in strips large as a finger and long about 10cm. Cover a baking-tray with a baking sheet ad put over it the strips leaving some space in between.
Store in fridge for 10 minutes then brush them with the egg and strinkle with paprika and Parmigiano greted. Cook in pre-heated oven to 160° for about 15 minutes. Take out of the oven and serve.
DISCOVER ALSO...
the other Sweet -spicy specialties