Biscuits with radicchio and mayonnaise
A very simply idea for an original aperitif: salt biscuits with radicchio of Treviso and mayonnaise to eat with our sweet-spicy sauce.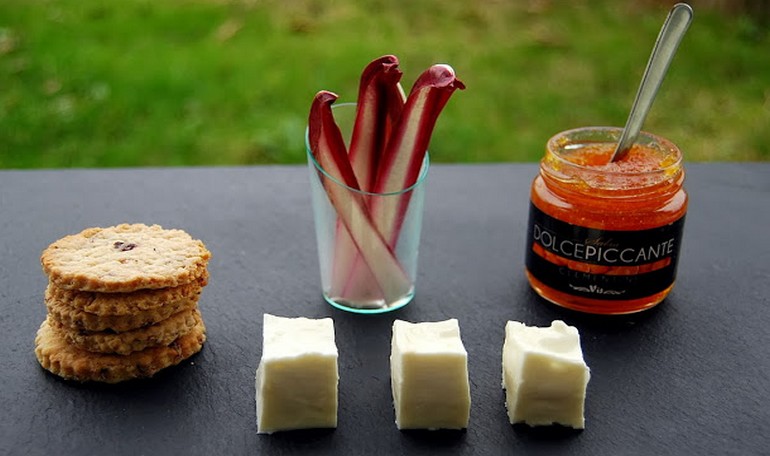 Ingredients
---
- 250g flour 00
- 70g mayonnaise
- 70g butter
- 70g radicchio of Treviso
- 2 slices of bacon
- 1 spoon of grated cheese
- 1/2 tea-spoon of salt

Eat them with:
- 200g casatella trevigiana
- clementines sweet-spicy sauce Vis
- 90g radicchio of Treviso
Preparation
---
Wash the radicchio and blanch it for 2 minutes, then cut it finely. Mince also the bacon. In a sauce-pan fry the bacon with the radicchio, cook them a low flame for 10 minutes. Turn off the fire and add the salt.
Pour in a bowl the flour, the salt, the yeast, the grated cheese, the melted butter, the mayonnaise and the bacon-radicchio preparation. Start to mix using a fork and then with your hands. Put the dough over a working table and continue to work it in order to obtain a soft ball. Cover the ball with a food film and store in fridge for about 30 minutes. After this time, spread the dough with a rolling-pin (thickness about 3 mm) and cut the biscuits.
Put the biscuits over a baking tray previously cover with a baking sheet and cook in a pre-heated oven to 180° for about 20 minutes. Serve them with "casella trevigiana" cut in little cubes, radicchio of Treviso and clementines sweet-spicy sauce.