A sweet bread to spread with your favorite cream.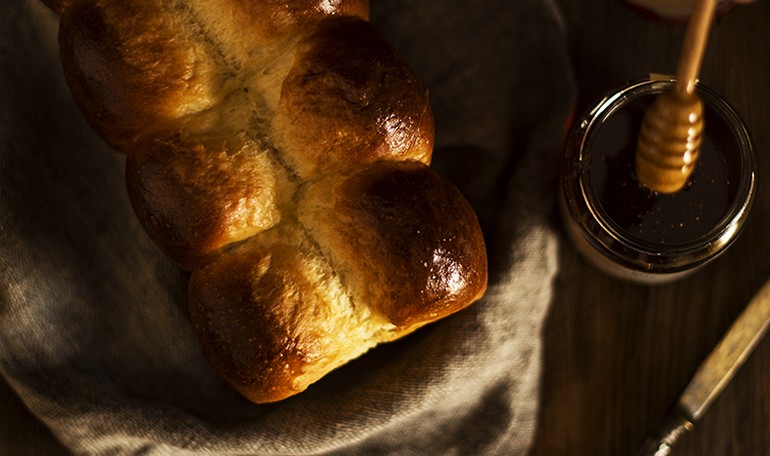 Ingredients
---
- 250g flour
- 4g salt
- 30g sugar
- 10g fresh brewer's yeast
- 60 ml warm whole milk
- 2 middle eggs
- 65/80 ml seed oil
For coating:
- 1 whipped egg with a pinch of salt
For spread:
- Chestnut honey
Accessories:
- Cake-tin for plumcake
Preparation
---
In a bowl mix the dried ingredients: flour, salt and sugar. In another bowl melt the butter into the milk. Whip the eggs and add it to the dried mixute. Add also the oil. and the mixture of butter and milk. Mix all until you obtain a homomeneous dough, it will be very sticky. Let it leaven for 10 minutes.
After 10 minutes work the dough in a bowl, pull the dough from one side and press it to the middle. Turn the bowl and repeat the previous operation. Make it for 8 times. Cover the bowl and store for 10 minutes. Repeat the bending operation another time and let store the dough for another 10 minutes. Repeat all for the last time. Cover and store in fridge for 1 hour.
Deflate the dough with a punch, then transfer it over a working table previously floured. Divide the dough in 3 equally parts. Take one piece at a time and form three smooth ball. Put them in a cake-tin and let it rise until you obtain the doubling of the volume.
Pre-heated the oven to 200g and warm a saucepan on the bottom of the oven. When the brioches is leaven brush it surpace with a whipped egg. Cook it in oven and pour a cup of water into the saucepan on the bottom of the oven. Cook for about 20 minutes. Let it cool on the grill.