A classical tart stuffed with two special "Più Frutta Benessere" jams.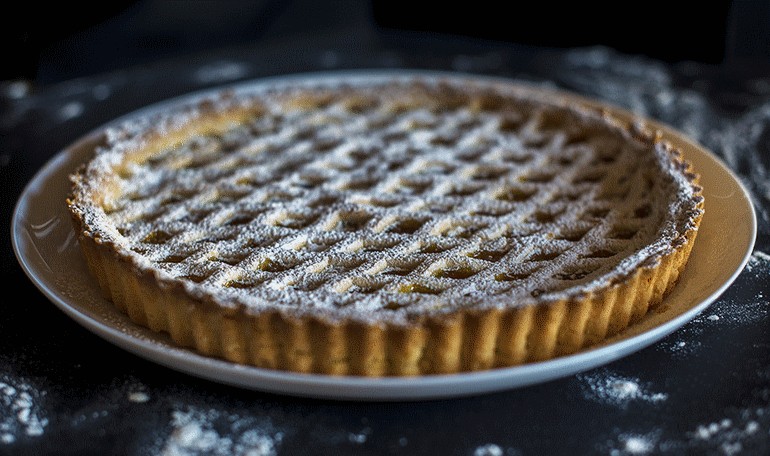 Ingredients
---
For the shortcrust pastry:
- 375g flour 00
- 185g soft butter in pieces
- 3 yolks
- 150g icing sugar
- vanilla aroma
- a pinch of salt
For stuffing:
- "Più Frutta Benessere" Peach and Passion Fruit jam
- "Più Frutta Benessere" Pineapple and Yellow Kiwi jam
- icing sugar
Preparation
---
In a mixer pour the flour with the soft butter, work for some seconds until you obtain a crumble dough, transfer it over a working table and add the icing sugar, the yolks, the vanilla aroma and a pinch of salt. Work fastly the dough and make a ball. Wrap it into a food-film and store in fridge for about 30 minutes.

Spread the dough using a rolling-pin (thhickness about 1/2cm) and dispose it into a cake-pan previosuly buttered and floured. Stuff a half of cake with one jam and the rest with the other one. Spread the rest of the dough and cut it with special mould in order to form a grill.

Cook it in a pre-heated oven to 180°C for about 30 minutes. Take out of the oven and let it cold. Before serve sprinkle it with icing sugar.
DISCOVER ALSO...
the other "Più Frutta Benessere" jam