Focaccia with stracchino cheese dough
A tasty, soft and special focaccia in its simplicity: the stracchino cheese dough is the secert! For the stuffing you can choose to leave it without any garnish or to enrich it with cheese, olives, cherry tomatoes, zucchini, onions, etc... It's perfect for a great pic nic.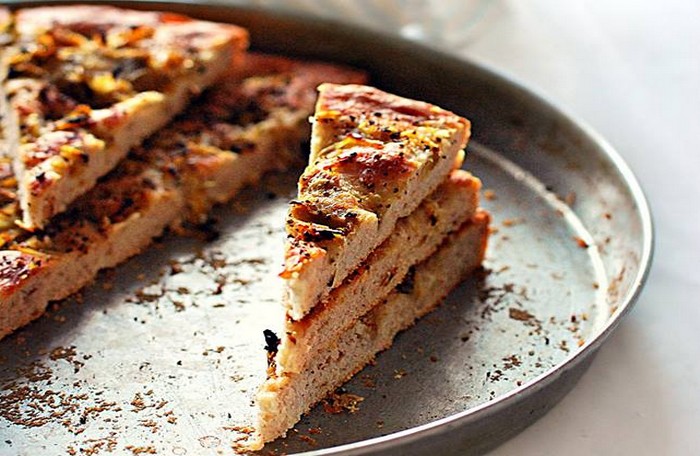 Ingredients
---
- 150g durum wheat flour
- 350g Manitoba flour
- 5g of malt
- 12g salt
- 250 gr stracchino cheese
- 100g warm milk
- 100g warm water
- 6 gr fresh brewer's yeast
- e.v.o. oil
- a pich of salt
- pesteda (Vis)
- 2 fresh onions (or olives, cherry tomatoes, zucchini, etc.)
Preparation
---
Put into the kneader the flours, salt and malt: mix all. In an other container mix milk and water and dissolve yeast in this mixture. Blend stracchino cheese along with 1 spoon of oil. Pour this mixture on the flours and knead all for 15-20 minutes adding gradually the mixture of milk and water with yeast.
Put the dough on the floured pastry board, cover it with a big bowl and let rest for 1 hour. Flatten the dough gently into a rectangle form and fold it in 3 parts: bring the left flap of dough in the center and cover with the right one.
Turn the dough rightward, flatten it again and repeat the folds. Put the dough in the bowl (brush with oil) keeping the folds below, cover with film (not in contact) and let rise at room temperature for 4-5 hours. Move the dough in the fridge and let rest for 1 night.
Next day keep the dough and let it rest at room temperature for 2 hours. Brush with oil a baking tray and stretch out the dough. Cover it with film (not in contact) and let rise for 2 hours. Meanwhile prepare the stuffing: clean onions and thinly slice them. Heat 1 tablespoon of oil in a large non-stick frying pan, pour onions and cook for 10 minutes with the lid. Add a pinch of salt and turn off.
Turn on the oven to 250° C. Sprinkle your focaccia with a mixture of oil and water (1 part of oil and 2 parts of water) and cover it with onions and pesteda. Bake your focaccia in the lower part of the oven for 10 minutes. Lower the temperature to 220°C and continue baking for 20 minutes more in the upper- middle part of the oven. Serve warm or cold.