Grilled tomino cheese with dried fruit and grape
A easy and very fast recipe to prepare for a simply dinner!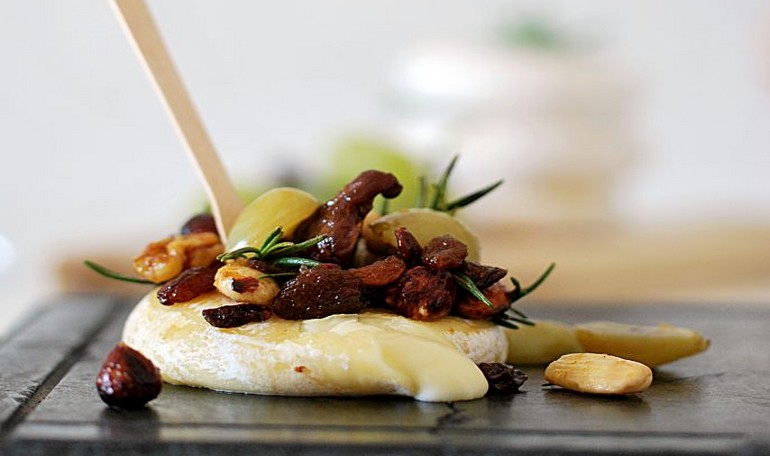 Ingredients
---
- 2 tomino cheese
- 4 dried figs
- 12 white grapes berries cut in half
- 60g mixed dried fruits (nuts, almonds, hazelnuts, raisins and goji berries)
- 3 teaspoons of pear sweet-spicy sauces
- 2 sprigs of rosemary
- e.v.o oil
- salt and pepper.
Preparation
---
Put the mixture of dried fruits in a non-stick frying pan, add half-cut figs, grapes, rosemary, 1 teaspoon of oil, 1 pinch of salt and 1 pepper. Turn on the flame and toast for 5 minutes. Soften 2 teaspoons of sweet-spicy pear sauce with a spoonful of water, add it in the pan, mix and cook for few minutes.
Turn off and pour everything into a bowl. Place tomini cheese in the same frying pan and use them "to clean" it in order to season them with dried fruit deglazing. Spread a thin layer of sweet-spicy sauce on top of tomini and cover with dried fruits. Put tomini on a hot grill and heat them for 3 minutes. Serve immediately! You can also cook tomini on a soapstone as I do.
DISCOVER ALSO...
the other Sweet-Spicy sauces