The word from the nutritionist
How to deal positively the autumn! Beautiful things to do...
Deal the post-holiday with the right spirit without let the stress win you.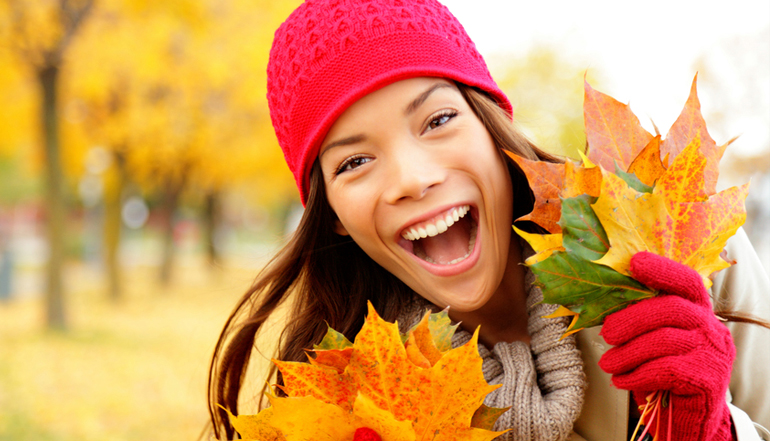 Autumn: the absolutely pass season, it welcomes you at the end of the summer and brings you on the threshold of the winter. The most important thing is not to be taken from sadness, but to deal with the correct energy this season rich of colours and perfumes. With the batteries recharged by the summer, that's the moment to make new projects and plan for some important changes.

The temperature lowers slowly, leaving the summer mugginess, and this gives us the possibility to spend some days in open air, staying in cool, excursions and trips to the countryside, walking, picnic and bicycle. A fun activity for the whole family could be the collection of dry leaves that punctually fall down with the arrival of autumn, colouring the ground of boulevards and parks. In the evening, tired from the day, we shrink out socks and some blankets and we prepare a cup of tea or hot chocolate, nothing better even in a rainy day/evening typical of the autumn.

Change of season = change of wardrobe, so remember that a little 'healthy' shopping never harms, indeed it could have curative effects! Don't forget the kitchen, here is another way to deal the autumn: we can create some different dishes that are very colourful and healthy thanks to fruit and vegetable of the season and we can also restart the oven after months of warm, ice-cream and fresh dishes. And chestnuts? Fruit protagonist, collect, roast and enjoy them. For early risers who live outside the city this is also the good season to go to gather mushrooms, to eat then with their family and with a bottle of good wine.

Just a rule: Don't let the stress win you and deal the post-holiday with the right spirit!

Published 13 October 2016