The word from the nutritionist
Rose hip: we bring a new taste on the table
The rose hip is very appreciated in the cuisine art where it's a refined ingredient in order to prepare tasty dishes.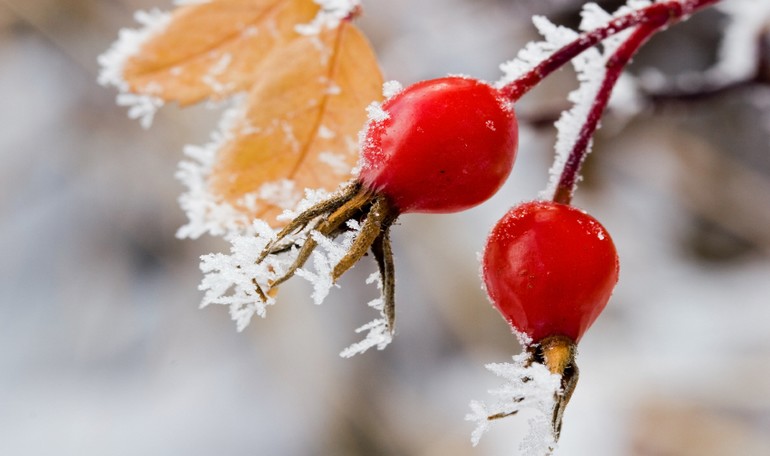 The rose hip is one of the various types of wild rose in our country; it can be found in high hedges along the desert fields, the country roads, the woods or in the scarps and in the glandes.
Its name comes from the Greek kynos (dog) and rhodon (rose): "Dog rose", that is referred to the presence of thorns similar to the teeth of wild wolves and to its use against the rage of dogs.
The small fruits are very reach in vitamin C that is 50-100 times higher than in the citrus fruit. For its various properties the rose hip is used in a lot of fields (for example the aesthetical sector -rose-water, masks for face- and the pharmaceutical field -to extract vitamin C) and in the cuisine art.
The different parts of the rose (flowers, petals, fruits) are used in the cuisine art to obtain: infusions, spirits, mustards, honey but above all jam. The velvet and sour rose hip jam has a very particular taste. To preserve the aroma and flavour of the fruit it's necessary to produce the jam using low quantity of added sugar with short coking times at low temperature. This jam isn't intended just for the breakfast or children snack. It's perfect to garnish biscuits and cakes but if you really want to appreciate this jam you have to have fun in the kitchen testing new recipes. If you want to amaze your palate you can test the jam with boiled meat, both red and white, or with the roasts (preferably game): the result is a very refined dish. The jam can also be tasted with seasoned and sapid cold meat (in particular with a dry-cured of deer) or with fresh cheese. The just picked petals can be used by the most curious palates to prepare candied, pancakes and to decorate fruit salads and cakes.

Published 18 November 2016