Spitzbuben Christmas biscuits
Are you ready for Christmas presentss? These biscuits are perfect as home-made gift.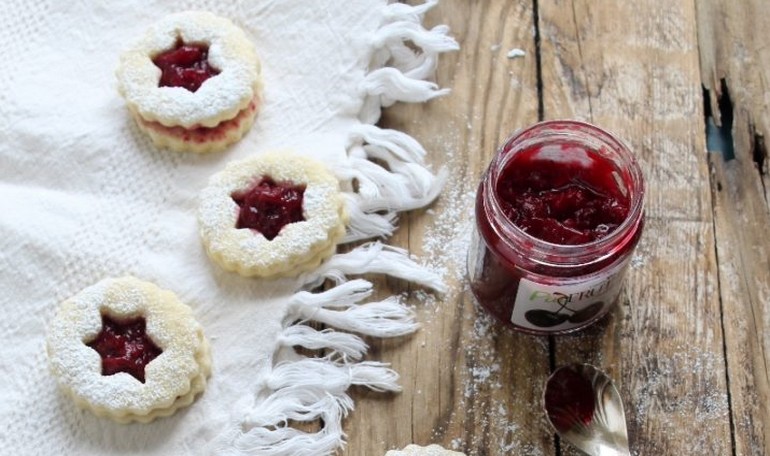 Ingredients
---
- 300g flour
- 110g sugar
- 1 egg
- 130g butter
- 1 teaspoon of yeast
- 1 pinch of salt
For filling:
- sour-cherries "Più Frutta Light" jam q.b.
- icing sugar q.b.
Preparation
---
In a bowl mix the flour with the icing sugar and the yeast. Then add the butter previously cut in little pieces and the egg. Start to mix, then dispose the dough over a previously floured working table. Continue to mix until all ingredients are amalgamated, form a ball, wrap it into a food-film and store in fridge for about 30 minutes.
Spread the dough using a rolling-pin (thickness about 3/4 mm). With a biscuit cutter cut the biscuits. Take the half of biscuits and with a little biscuit cutter make a hole in the middle of everyone.
Put all biscuit over a baking tin previously covered with a baking paper. Cook them in a pre-heated oven to 180° for about 13/14 minutes. Let them cold and the spread a spoon of jam over the biscuit without the hole in the middle. Joint the two kind of biscuits and sprinkle all with icing sugar.