Roller of bacon, mashed potato and potatoes, peas and cheese on base of egg omelet
Would you conquer your guests with a particualar aperize? Here you can find the perfect idea!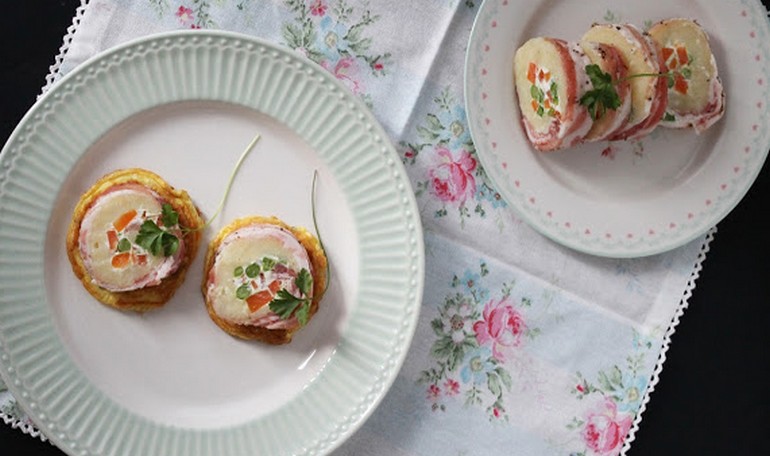 Ingredients
---
- 3 middle potatoes
- 2 carrots
- a handful of peas
- 150g cream cheese
- a handful of Parmigiano
- salt
- Pesteda Vis
- 12 slices of bacon of pig elegantly cut
For the base:
- 4 eggs
- Parsley
- Salt
- a handful of Parmigiano
Preparation
---
Cook the potatoes and let them cool, in the meantime flavored the slices of bacon with the Pesteda and let it rest for about 1 hour. Cook in two different pots with salty water, the carrots, previously you cut in pieces, and the peas. Drain and join them into a bowl. Let them cooll.
Crush the potatoes, seasoned with salt and Parmigiano cheese, mixing all well. Add the cheese to the carrots and peas. Mix all. .Stretch a sheet saran wrap along 60 cms. Over it put the slices of bacon overlapping of 1 cm the one with the other, sprinkle them with mashed potatoes and level forming a rectangle. Add the peas and carrots, then roll up, helping you with the film.
Wet with water a working plan, stretches other two sheets of film 60 cms, overlapping them among them. Transfer the roller, and roll up, pay attention to close well the extremities with a narrow knot. Store in freezer for 3 hours.
Prepare the frittatines: whip the eggs, seasoned them with parmesan cheese, parsley and salt. Cook them in frying pan. Cut the roller in slices from 1 cm and put everyone over the frittatines.