Biscuits for the tea time
Are you ready for the tea-time? We have just prepared these tasty biscuits stuffed with "Natura & Tradizione" wild berries jam perfect to eat with a hot cup of tea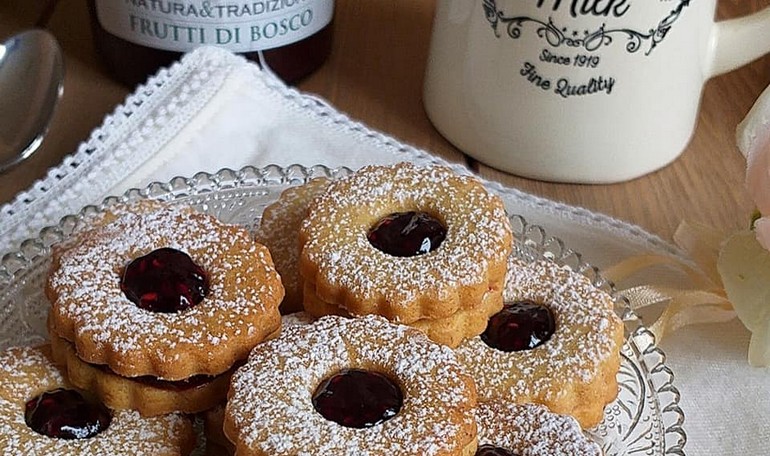 Ingredients
---
Ingredients for the shortcrust pastry:
- 150g flour type 00
- 60g wholemeal
- 50g potato starch
- 70g icing sugar
- extract of vanilla
- 110g butter in pieces
- 1 egg
For stuffing:
- "Natura & Tradizione" wild berries jam
Preparation
---
In a bowl mix the two type of flour, the starch and the icing sugar, then add the butter and start to knead. When you obtain a crumbled dough add the egg and work well in order to obtain a soft ball. Wrap it into a food film ans store it in fridge for about 1 hour.
After this time, spread the shortcrust pastry over a working table previously floured. Using a biscuit cutter cut different disks. Then take the half of disks and with a round biscuit cutter much smaller make a hole in the middle of the biscuits. Dispose all disks over a baking tin previously covered with a baking paper and cook them in a pre-heated oven to 180° for about 12-13 minutes.
Let them cold and spread a spoon of jam over the diskes without the hole, the dispose over it a diskes with hole. Sprinkle all with icing sugar and serve.