Cherry & Ricotta Crumble Pie
The "cherry & ricotta crumble pie" is combinationf of 3 American sweet: cheesecake, crumble and cherry pie.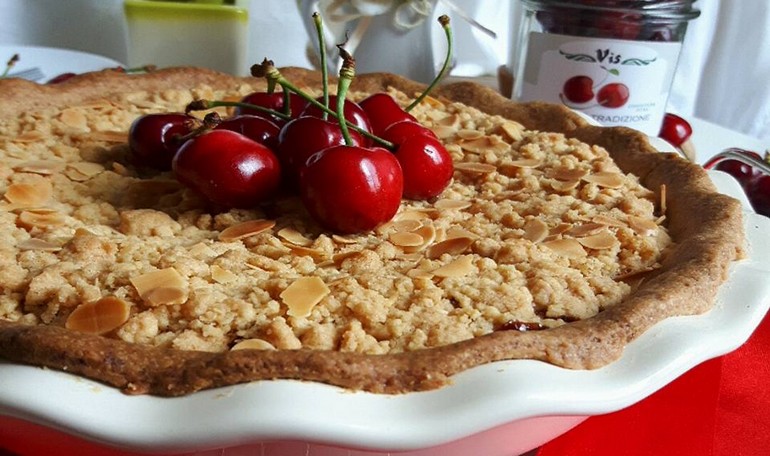 Ingredients
---
For the tart:
- 180g flour 00
- 90g cool butter
- 40g sugar
- a pinch of salt
- 30-35ml frozen water
For the filling:
- 450g ricotta
- 80g sugar
- grated rind of one lemon
- 1 spoon of vanilla
- 350g cherries "Natura e Tradizione" Vis jam
For the crumble:
- 150g flour
- 100g butter
- 50g cane sugar
- 5g yeast
- a pinch of salt
- 30g slivered almonds (no obbligatory)
Preparation
---
Preparation of the tart
In a bowl mix the flour with a pich of salt and the sugar, then add the butter and start to mix. Pour the water and work all until you obtain a soft ball. Wrap in into a saran wrap and store in fridge for about 30 minutes.
Preparation of the crumble
Mix the flour with the salt, the cane sugar and the slivered almonds, then ad the butter and work all until you obtain a crumbled dough.
Assembling
Cover with the first dough a baking-pan (diameter 24cm) previously buttered and floured, the spread over it a layer of ricotta cream (previously prepared mixing the ricotta with the sugar, the lemon and the vanilla). Then pour over it the cherries jam and finally cover all with the crumbled dough.
Cook in a pre-heated oven to 180°C for about 45 minutes.