Linzer tart with blueberries jam
The linzer tart is a simple, elegant and very tasty sweet. It has a fragrant pastry flavoured with almonds and cinnamon and a stuffing of blueberries jam.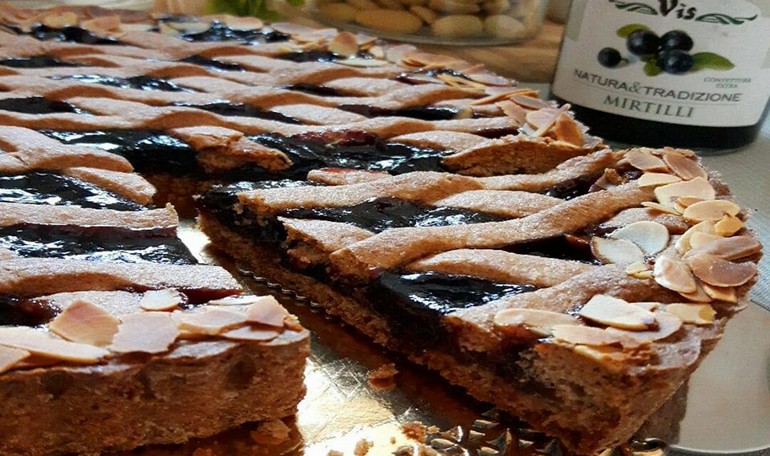 Ingredients
---
RECIPE FOR A LINZER TART (DIAMETER 26 CM):
- 250g flour type 00
- 60g almonds flour
- 125g cane sugar
- rind of 1/2 organic lemon
- 1g cinnamon powdered (optional)
- 6g yeast
- 5g powdered of bitter cocoa
- 140g butter
- 1 egg
- 20ml milk
- 1 spoon of vanilla extract

FOR STUFFING:
- 300g Vis blueberries jam
- flakes of almonds
Preparation
---
In a bowl (or into a kitchen machine) pour the flour type 00, the almonds flour, the cinnamon, the cane sugar, the yeast and the rind of lemon. Mix all and add the butter and then the egg, the milk and the vanilla extract.
Knead all until you obtain a soft ball. Wrap it into a saran wrap and store it in fridge for about 1 hour.
Then spread 3/4 of the pastry over a cake-tin previously buttered and floured. Cover it with the blueberries jam and decore with the almond flakes and with the rest of the dough.
Cook in a pre-heated oven to 180° for about 40-45 minutes. Let it cool before serve.