Crostata della liberazione
Questa meravigliosa crostata è composta da un guscio di frolla al pistacchio che racchiude al suo interno uno strato della nostra confettura limone, lime e zenzero e una deliziosa crema frangipane al pistacchio. Per finire una golosa ganache al cioccolato bianco e lime che la arricchisce rendendola ancora più golosa!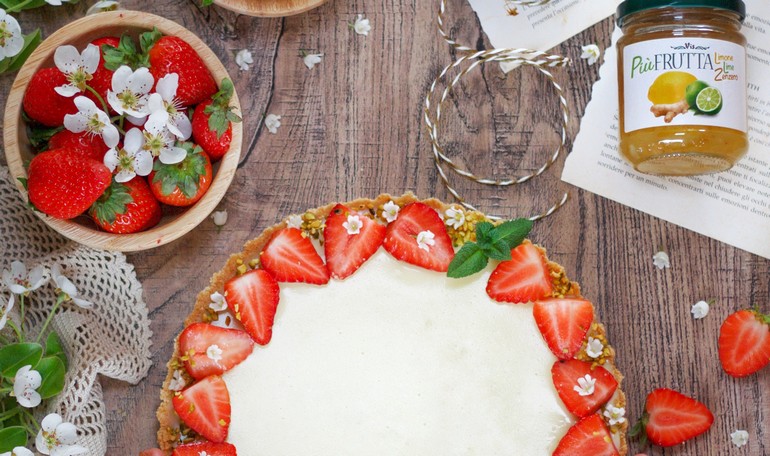 Ingredients
---
To prepare pistachio shortcrust pastry:
- 28gr Pistachio flour
- 50gr Fecola di patate
- 180gr Flour
- 100gr Butter
- 50gr Eggs
- 90gr Sugar
- Lime zest
- Lemon, lime and ginger JAM

Pistachio Frangipane:
- 50gr Pistachio flour
- 20gr Flour
- 50gr Sugar
- 50gr Butter
- 1 Egg
- Grated lime zest
Ganache with white chocolate and lime
- 200ml Wipping cream
- 200gr White chocolate
- Grated lime zest
Preparation
---
To prepare the shortcrust pastry:
Mix the butter with the sugar, add the egg, the lime zest and finally the remaining ingredients.
Knead with your hands until everything is compacted. Let it rest in the fridge for 30 minutes.
After that roll out with the help of a rolling pin (4mm thickness). Finally line a perfectly buttered and floured tart mold. Prick the base.
Spread a layer of lime, lemon and ginger jam on the base.
Store everything in the fridge
To prepare Pistachio Frangipane:
Whip the butter with the sugar, add the powders and finally the egg and the lime peel until a homogeneous mixture is obtained.
Resume the base and pour the frangipane cream.
Cook at 180 degrees for about 30 minutes and let cool
To prepare ganache with white chocolate and lime:
Heat the cream, (must touch the boil) and pour into a bowl with the chopped white chocolate.
Stir until the chocolate is completely melted.
Add the lime zest
Pour on the cake
Decorate, finally, with strawberries and chopped pistachios
DISCOVER ALSO...
the other "Più Frutta Benessere " tastes