This tart has a very tasty filling prepared with peach jam, pieces of apple and crumbled biscuits. Thanks to its warm and enveloping flavour it is perfect in every special occasion.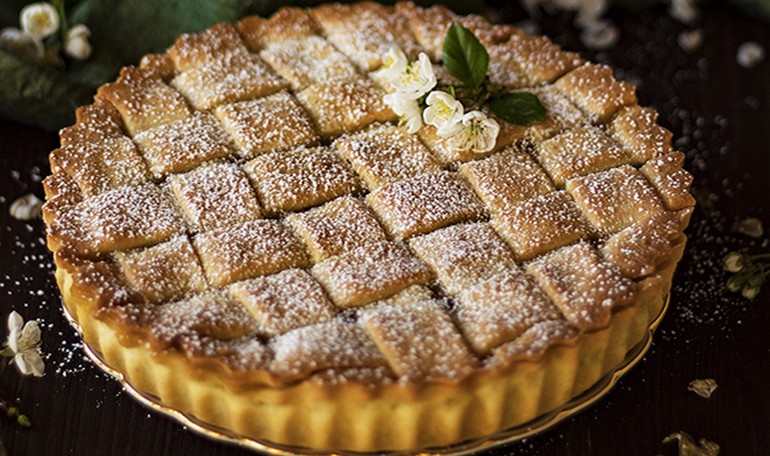 Ingredients
---
For the shortcrust pastry:
- 250g Bio Arifa Ruggeri flour
- 125g soft butter in pieces
- 1 egg
- 100g icing sugar
- the rind of one lemon
- vanilla aroma
- a pinch of salt
For stuffing:
- 1 Fuji apple
- some lemon juice
- "Natura & Tradizione "peach jam
- 1 spoon of brown sugar
- 8 amaretti o rdry biscuits
- icing sugar
Preparation
---
In a bowl pour the flour with the icing sugar, then add the butter, the egg, the vanilla aroma, the grated ring of one lemon and a pinch of salt. Work fastly all ingredients and then transfer the dough over a working table. Work it with your hands unitil you obtain a soft ball, then wrap it into a food-film and store in fridge for about 12 hour.
Cut the apple in pieces and then pour over them the lemon juice and the brown sugar, mix all and store it.
Using a rolling-pin spread the dough between two baking paper (keep some dough to make the strips). Remove the paper from the top and then dispone the shortcrust pastry into a cake-tin (diameter 20cm). Using a fork make some little holes over the surface. Crumble the biscuits and put the half over the shortcrust pastry, then complete with a layer of jam, a layer of pieces of apple and another layer of biscuits. Finally make the strips and dispose them over the cake forming a grill.
Cook the cake in a pre-heated oven to 180° for about 30-35 minutes. Remove to the oven, let it cold and sprinkle it with icing sugar.