Apple heart: filled biscuit
An easy recipe to prepare soft and very tasty filled biscuit.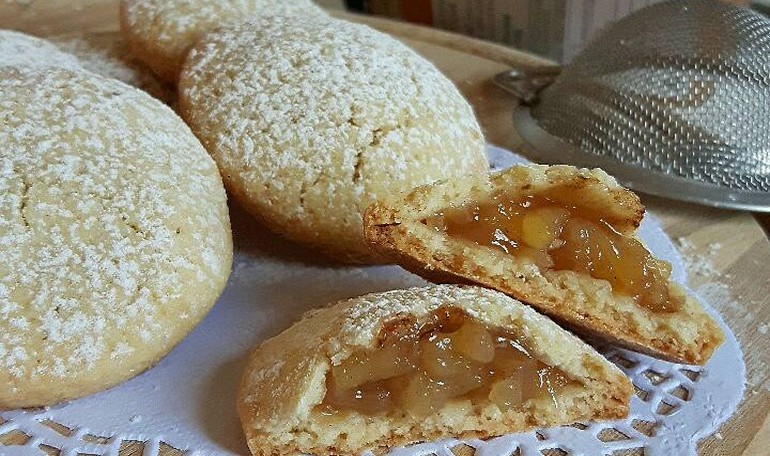 Ingredients
---
For the short-pastry:
- 250g flour type 0
- 100g sugar
- 5g yeast
- a pinch of salt
- 135g butter
- grated rind of one lemon
-1 egg
For the filling:
- 1 apple cut in little cubes
- 1 jar of quince "Poesie di Frutta" jam
Preparation
---
In a bowl mix the flour, the sugar, a pinch of salt and the yeast. Then add the butter previously cut in little cubes. Mix all until you obtain a sandy dough, then add the egg and the grated lemon. Continue to work until you obtain a soft dough, form a ball and wrap it into a food-quality film. Store in fridge for about 30 minutes.
Spread the dough over a working table previously flour. Using a biscuit cutter cut different disks, then fill the half of disks with the quince jam and with some little cubes of apple. Close them with the rest of disks. Dispone them over a baking cases previously cover with baking paper. Cook in a pre-heated oven to 180° for about 15-18 minutes. Let them cool and sprinkle with icing sugar before serve.