Biscuits with spieces and chestnut cream
These biscuits have the perfume of Christmas and they are perfect for the winter tea-time.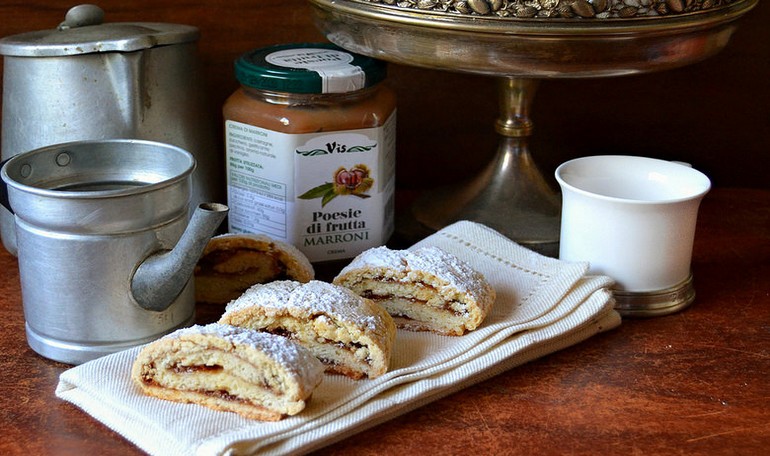 Ingredients
---
- 300g flour type 00
- 100g sugar
- 100g butter
- 1 teaspoon of yeast
- 1 egg
- a pinch of salt
- a pinch of powdred of cinnamon and ginger
- 1 jar of "Poesie di Frutta" chestnut cream
Preparation
---
In a bowl mix the flour with the yeast, the sugar, the egg and the butter previously cut in pieces. Flavour with cinnamon, ginger and salt. Work the ingredients until you obtain a soft dough. Give it a rectangular form and wrap it into a food film. Store in fridge for about 30 minutes.
Take out of the oven and spread it over a baking sheet. Give it the rectangular form. Spread the chestnut cream over the short-pastry. Form a roll and put it on baking trai and cook it in a pre-heated oven to 180° for about 20 minutes.
Take out of the oven and cut it in slice (thickness 2 cm) and sprinkle with icing sugar