Paste di mandorla (Typical Sicilian Pastries) with hazelnuts
This is one of the most famous Sicilian sweet and it is perfect to taste in the winter season.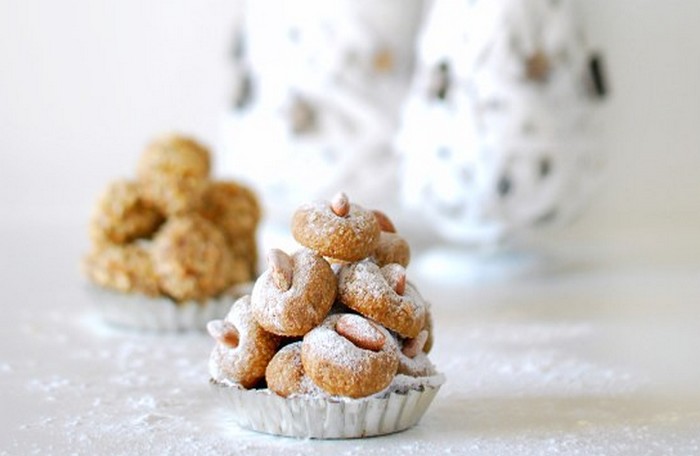 Ingredients
---
- 120g peeled almonds
- 100g peeled toasted hazelnuts
- 180g sugar
- 20g flower honey Vis
- 50g hazelnut paste or 100% hazelnuts cream or hazelnut butter
- 1 large egg white
- unpeeled almonds and chopped hazelnuts to decorate
Preparation
---
Finely chop almonds and hazelnuts together with sugar and pour them into a bowl. Add honey, hazelnut paste and egg white: mix very well with a spoon getting a homogeneous mixture. Cover with paper 2 baking trays.
Using a teaspoon make 28-30 portion of the dough directly on baking trays. Roll them one by one in your hands making them perfectly round. Roll one half in chopped hazelnuts and decorate the remaining ones with one unpeeled almond.
Put the balls again on baking trays, cover with a sheet of baking paper and let rest (to dry) at room temperature overnight (this step is necessary to keep the pastries shape during baking and to keep very soft the inside parts of this special sweets)! Turn the oven on at 180 ° C and bake the pasteries for exactly 8 minutes. Let it cool completely and enjoy!
DISCOVER ALSO...
the other Vis honey