Rolle' of pastry with apple, muesli and bergamot marmelade
A super energetica and healthy snack, perfect for your children that have to make a lot of homeworks.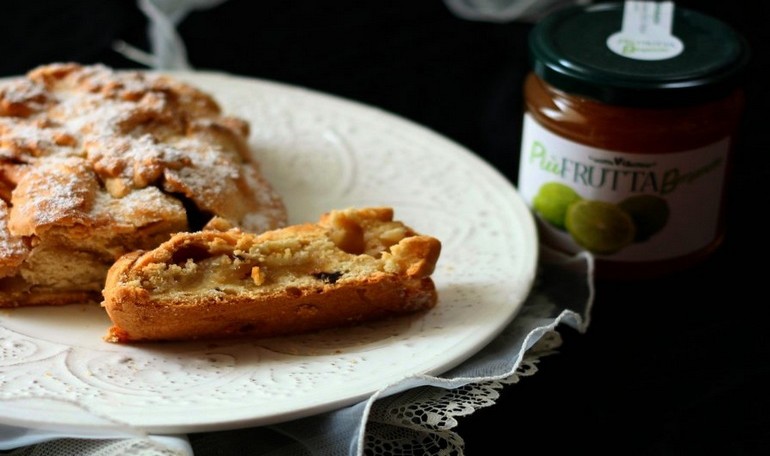 Ingredients
---
For the pastry:
- 250g flour 00
- 65g lard
- 75g di sugar
- 1 organic egg
- a pinch of salt
- the rind of 1/2 lemon
- 1/2 stick of yeast
- 1/2 milk
For stuffen:
- 1 golden apple
- 1 spoon of cane sugar
- 2 spoons of muesli
- 2 spoons od Vis Bergamot marmelade
Preparation
---
Pour into the robot machine the flour, the sugar, the yeast, the salt, the lard.
Start the machine until you obtain a lumpy dough, then add the egg, the rind of 1/2 lemon and the milk. Re-start the machine until you obtain a homogeneous mass.
Wrap the ball into a saran wrap and store in fridge for about 2 hours. After this time put it between two parchment paper (lenght 20cm width 10 cm) and spread the dough using the rolling pin.
Remove the overlying sheet and spread the bergamotto marmelade over the dough, Then dispose the slices of apple over the marmelade and sprinkle all with the cane sugar and muesli.
Close the dough forming a roll. Pay attention to close well the edges.
Cook it in a pre-heated oven to 180°C for about 25 minutes.
Let it cold before serve.
DISCOVER ALSO...
the "Più Frutta Benessere" range