The strawberry cheesecake (baked vertion) is a simply but very taste dessert. This kind of sweet is cooked in oven and then it is guarnished with fresh strawberry and jam.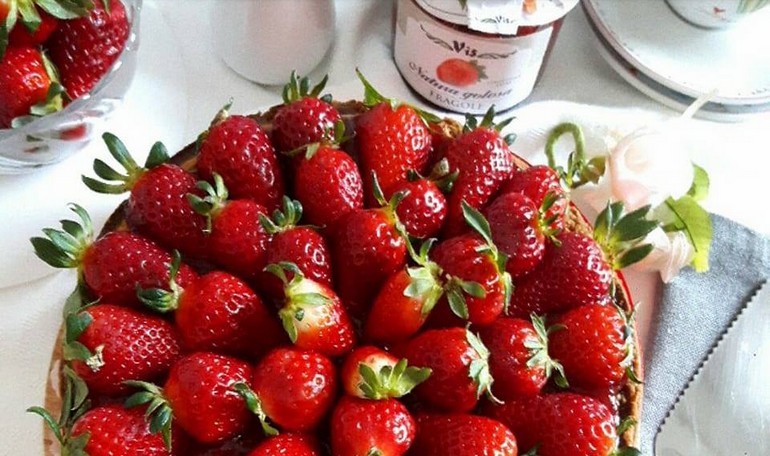 Ingredients
---
RECIPE FOR THE BISCUIT SHELL:
- 350g minced biscuits (type digestive)
- 90g melted butter
- 30g cane sugar
- 1g powdred cinnamon (optinal)
FOR THE CHEESE CREAM:
- 500g spreadable cheese ( type philadelphia)
- 100g robiola
- 150ml liquid freah cream
- 90g natural yogurt
- 180g sugar
- grated rind of one lemon
- 4 eggs
- 1 spoon of vanilla extract
- 1 spoon of flour type 00
TO GUARNISH:
- 200g strawberry Vis jam
- fresh strawberries q.b.
Preparation
---
In a bowl mix the biscuit previously minced with the cane sugar, the cinnamon and the melted butter. With this mixture cover a cake-tin dm 22 (with zipper) previously covered with sheet paper. Then store in fridge.
Prepare the cream. In the kitchen robot mix the spreadable cheese, the robiola and the sugar, then add the liquid cream, the natural yogurt, the lemon and the vanille. Mix well and add the eggs one at a time. For the last add the flour. Pour this cream over the biscuit shell. Cook in a pre-heated oven to 170° for about 1 hour.
Let it cool and the guarnish it with the jam and the strawberries.