Ricotta sweet dumplings with autum fruit salad
The dumplings with ricotta and oat, served with a warm autum fruit salad, are perfect dessert to taste in these cool evenings.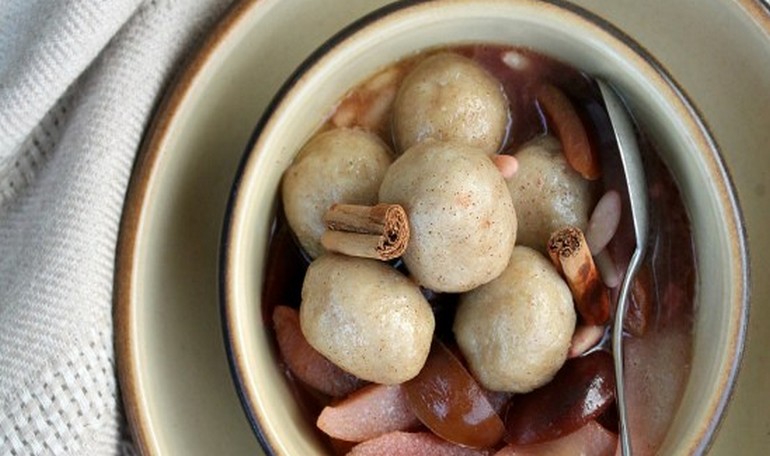 Ingredients
---
For the dumplings:
- 340g ricotta
- 70 g brown sugar
- 1 egg white
- 170g oat flour
- 1 teaspoon cinnamon powder
To season the dumplings:
- 30g butter
- 1 tablespoon full of linden Vis honey
- 1/2 teaspoon of cinnamon
For the autumn warm fruit salad:
- 8-10 plums
- 3 williams pears
- 1 golden apple
- 30 g pine nuts
- 2 tablespoons linden Vis honey
- 1 teaspoon of cinnamon
- juice of half a lemon
- 2 tablespoons Porto wine
Preparation
---
Pour ricotta, sugar and egg white into a bowl and mix everything with a whisk. Add flour and cinnamon and stir again with a wooden spoon to mix all the ingredients well. Take some teaspoons of dough and form many balls (walnut size) placing them on a lightly floured table.
Melt the butter with honey and cinnamon. Bring to boil a pot full of water and add a pinch of salt. Dip the dumplings in the water and cook until they come up. Drain them with a skimmer, pour them into a bowl and season with butter. Cover with foil and keep aside.
Prepare the fruit salad: peel and clean the fruits, cut all into slices or into small pieces and sautè the fruit salad in a pan with the pine nuts, honey, cinnamon, lemon juice and Porto wine. Cook for 5-10 minutes. Divide the autumn salad into the cups, complete with the ricotta dumplings and serve.
DISCOVER ALSO...
the other flavours of Vis honey