Tart with amaretti and raspberries
This tart is very tasty thanks to its fragrant shortbread and the particular flavor of its filling.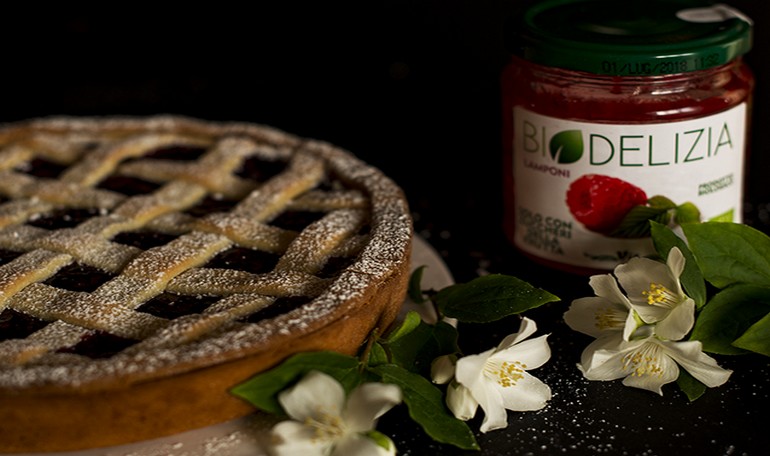 Ingredients
---
Shortbread
- 175g flour type 00
- 75g icing sugar
- 30g egg
- 1 yolk
- 85g butter
- rind of 1/2 organic lemon
- 1/2 vanilla (only the seeds)
- a pinch of salt
Filling
- dried amaretti
- 1 jar of Biodelizia raspberries

- icing sugar to sprinkle


Preparation
---
To prepare the shortbread
in a bowl pour the flour with the icing sugar, then add the butter, the egg and the yolk, the vanilla, the grated rind of 1/2 lemon and a pinch of salt. Work the dough and make a ball. Cover it with a saran wrap and store in fridge for about 12 hours.
Spread the dough, (let 1/3 for the strips) and put it into a baking-pan previously covered with parchment paper. Using a fork make some holes over the base of the tart. Crumble the amaretti over the base and the spread over them the jam. Dispose the strips over the tart and cook it in a pre-heated oven to 180°C for about 30-35 minutes.
Let it cool before serve.