Little tarts with rice and wild berries jam
What do you think about a particular snack, prepared stuffed of rice and jam?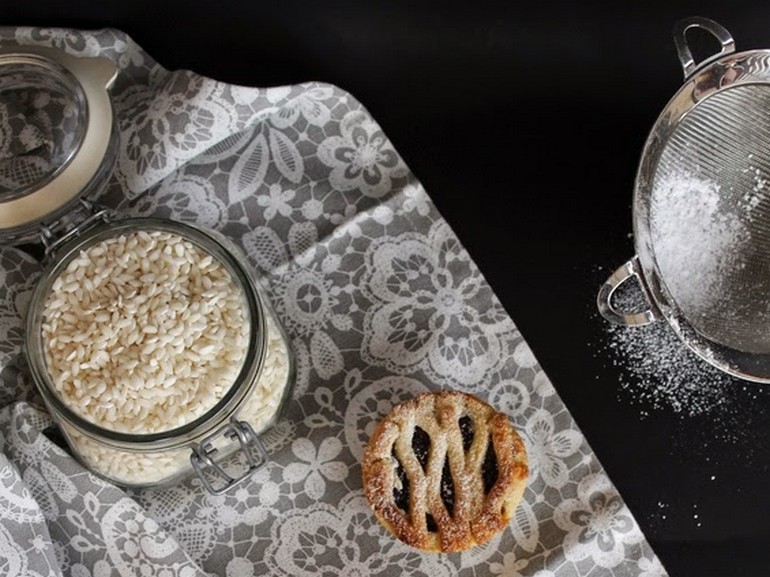 Ingredients
---
For the shortbread:
- 300g 00 flour
- 2 spoons of cornstarch
- 1 egg
- 1/2 packets of yeast
- 130g sugar
- 120g melted butter
- 1 spoon of honey
- a pinch of canella
For the stuffing:
- 1l fresh milk
- 250g Arborio rice
- 1 spoon of canella
- 1 spoon of honey
- wild berries jam
Decoration:
- Icing sugar
Preparation
---
Prepare the shortbread: in a bowl mix all the ingredients, amalgamate them until you will obtain a homogeneous mixture. Then wrap it in a film and put it in the refrigerator for 35 minutes. Meanwhile prepare the stuffing. Scald the rice in boiling water for 1 minute, then drip it and rinse it under cold water. In a pot united the milk, flavored with the honey and the canella, bring to a boil, united the rice and cook it at low heat for 30 minutes: will form a thick cream, turn off and make it cool. Preheat the oven at 160°, resume the pastry and roll it out using a rolling pin. Take some muffin molds, cover the with the pastry each one and prick the bottom with a fork. Pour over everyone the rice cream and a layer of jam and finally bake it for 20 minutes. Pull them out of the oven and let cool, decorate them with the icing sugar and served.