Fettuccine with crayfishes
This is a good idea for the Easter lunch: fettuccine with fresh marinated crayfishes. It is easy to prepare, elegant to see and tasty to eat.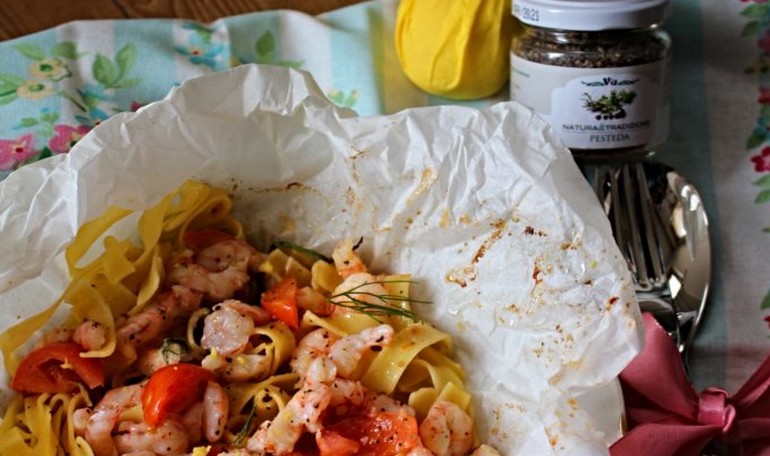 Ingredients
---
Ingredients for 4 people:
- 350g fettuccine with eggs
- 250g fresh crayfish without shells
- 1/2 organic lemon
- wild fennel
- 10 ciliegino tomatos
- extra vergin olive oil
- Pesteda Vis
- 1 clove of garlic
- salt
- the greted rind of one lemon
Preparation
---
In a bowl dispose the crayfishes and add 1/2 glass of oil, the lemon juice, the tomatos (cut every tomato in 4 parts) and the clove of garlic (cut in two parts), the wild fennel and 1/2 spoon of pesteda. Mix well and store it for 2 hours.
Cook the fettuccine in abundant salted water for about 4 minutes, drain them and divide over 4 sheet of baking paper. Pour aboundand oil over the fettuccine, the dispose over every portion of fettuccine the marinated crayfishes and garnish them with the greted rind of lemon a pinch of pesteda. Close well the baking paper and cook them in pre-heated oven to 180° for about 10 minutes. Serve still warm.