Mille-feuille with bitter chocolate, pistachio, cottage cheese cram and strawberries jam
A dessert easy to prepare, but also tasty and good to see; it is perfect to serve after the Sunday lunch or a dinner with friends.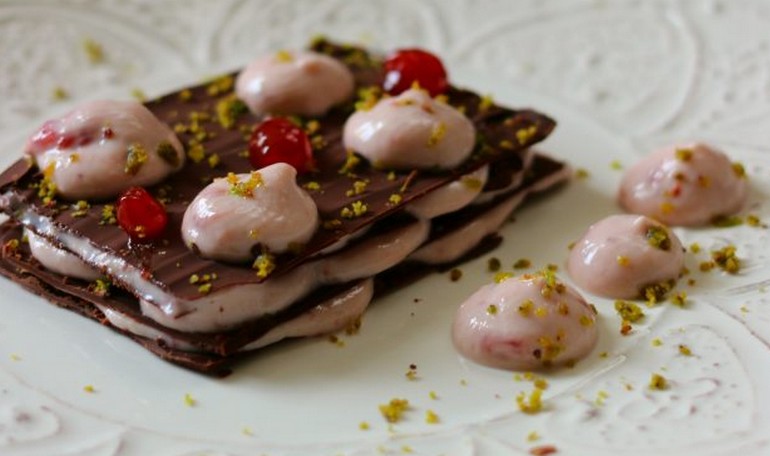 Ingredients
---
Ingredients for 4 people:

For the chocolate crusts:
- 150g bitter chocolate
- a spoon of pistachio of Bronte minced

For the stuffing:
- 200g cow cottage cheese
- 3 spoons of Vis strawberries jam

For guarnish:
- pistachio of Bronte minced
- Vis strawberries jam
Preparation
---
The evening before to prepare the dessert put to drain off the cottage cheese using a strainer and store it in fridge.
Prepare the chocolate crusts. Melt the chocolate in bain-marie, when it is completely liquid pour it over a sheet of paper using a spoon and with a spatula spread it in order to form different rectangles (dimention: 15cm x 6 cm) Cover every rectangle with minced pistachio a let it store in fridge for about 10 minutes. Then take out the crusts and cut everyone at half. Put in fridge for about 1 hour.
Prepare the cream: in a bowl put the cottage cheese and the jam. Mix all well in order to obtain a soft cream. Take one crust and put it in the middle of a dish. Pour the cream into a sac a poche and put a little quantity of cream in 4 point of the crust. Sprinkle with the minced pistachio then put over the cream another crust . Make this opertation for another one time. Decore the dessert with cream, minced pistachio and jam.