The Sachertorte is more then a simple cake, it symbolizes the Austrian identity in the world. Here we propose the Seddy' recipe that is a simplified version of the original one.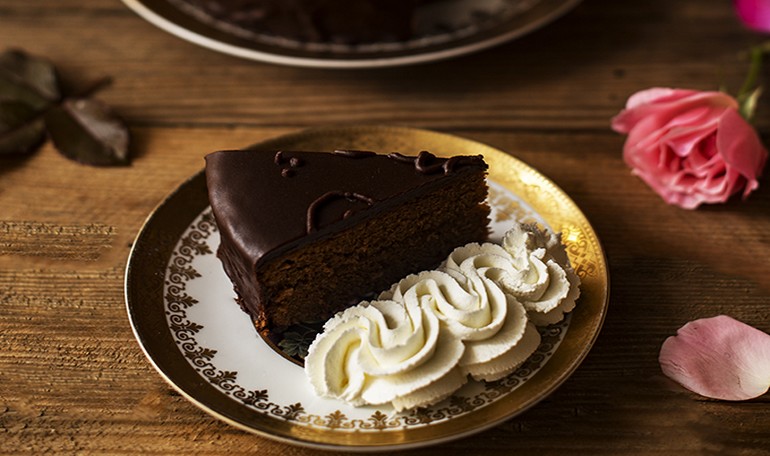 Ingredients
---
- 70g butter at room temperature
- 55g icing sugar
- vanilla
- 3 yolks
- 3 albumes
- 65g bitter chocolate (62% cocao)
- 55g sugar
- 70g flour
- a pinch of salt
For the filling:
- "Natura & Tradizione" apricot jam
For the chocolate icing:
- 100g sugar
- 60 ml water
- 75g bitter chocolate (62% of cocoa)
For garnish:
- Roses of sugar
To serve: cream

Cooking accassories: cake tin diameter 18-20 cm
Preparation
---
In a food processor mix the butter with icing sugar, a pinch of salt and the vanilla, until you obtain a soft cream. Add slowly one yolk at a time and continue to work until you obtain a white and fluffy dough. Melt the chocolate in a water bath, when it reaches a temperature og 30°C add it to the mixture. Beat the egg whites and add some sugar at a time. Add this cream to the dough and then add also the flour. Pour the dough into a previously buttered and floured cake tin, level the surface with a spatula and cook in a pre-heated oven to 170°C for 35/40 minutes. Take out of oven and reverse the cake on a grate for sweet. When it becomes cool cut in two diskes. Fill one disk with apricot jam, then overlap with the other. Spread the jam also over all surface od the cake, both the sides.
Prepare the chocolate icing. To prepare the icing: boil on high heat the sugar with the water for 5 minutes, the let it cool. Melt the chocolate in water bath and then add it to the sugar mixture. Mix all in order to obtain a liquid icing. When it comes 37° of temperature spread it over the cake. Store the cake in fridge until the icing becomes solid. Cut in slices and serve with whipped cream.
.