Small pastry with ricotta cheese, chocolate and soft fruit
Delicious, little and tasty pastries where the chocolate flavour is perfectly mixed with ricotta and wild berries.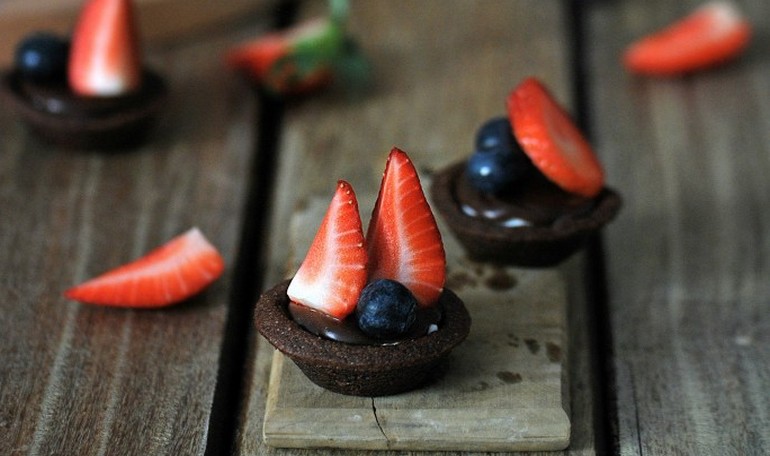 Ingredients
---
For the pastry:
- 180g flour
- 20g bitter cocoa
- 100g cold butter
- 1 pinch of salt
- 80g brown sugar
- 2 egg yolks
- vanilla
For the filling:
- "Natura & Tradizione" raspberries jam
- 250g ricotta
- 2 tablespoons of brown sugar
- half lemon rind
For the ganache:
- 150g dark chocolate
- 150g fresh cream
- ginger powder
To complete:
- fresh strawberries and blueberries
Preparation
---
Prepare the pastry then wrap the dough in plastic and let it rest in the refrigerator for 1 hour. Take back the dough: spread it on a floured pastruy board in a thin disk, cut out circles with a small cookie cutter and use them to cover small buttered and floured tartlets molds. Prick the tartlets with a fork and let them rest in the refrigerator for at least 30 minutes: they must be very cold in order to maintain their shape (alternatively you can also put them in the freezer for 15 minutes).
Preheat oven at 180 °C. Bake the tartlets for 12-15 minutes, take them out of the oven and let them cool before removing them from the mold. In the meantime, mix ricotta with sugar and the grated lemon rind and beat it for 5 minutes with the electric whisk to make it soft and homogeneous. Prepare the ganache: chop the chocolate with a knife and pour it into a bowl with a teaspoon of ginger. Heat the fresh cream in a saucepan bringing it to the boil, turn off, strain it and pour it over the chocolate, stirring with a hand whisk until the cream is smooth and shiny. Let it cool.
Meanwhile stuff the tartlets: put half a teaspoon of raspberry jam on the bottom and then the ricotta almost to the edge. Complete with the ganache and refrigerate for half an hour. Meanwhile, wash the blueberries and strawberries and cut them into wedges. Decorate the tarts with berries and serve!
Notes:
- The shell of the tartlets can be prepared up to 2 days in advance and stored in an airtight glass container or in a good biscuit tin.
- The pastries, however, once stuffed, should preferably be consumed in one day in order to keep their fragrance. The next day they will be good, but the pastry shell will be softer.