"Ugly but good" Ricotta cake with chocolate and peaches
A delicious cake of ricotta, peaches and bitter chocolate that Elena has called "Ugly but good".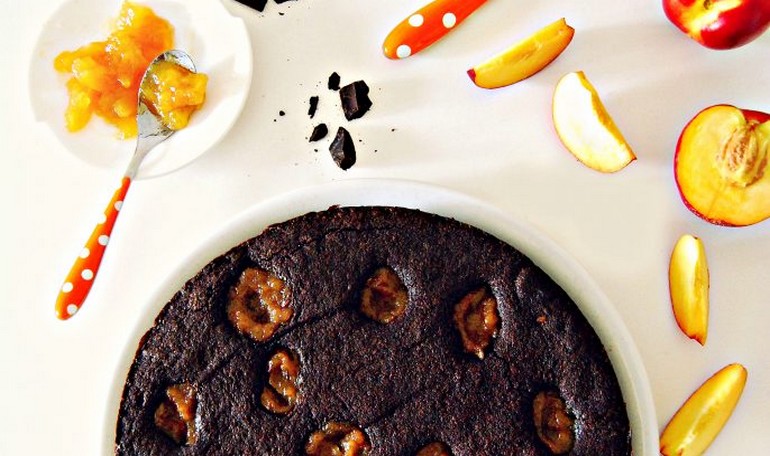 Ingredients
---
- 2 nectarines
- 2 spoons of cognac
- 110g brown sugar
- 100 ml fresh cream
- 120g handmade goat ricotta cheese
- 130g finely chopped extra dark chocolate
- 90g flour
- 1 spoon bitter cocoa
- 50g chopped almonds
- 1 beated egg
- Peaches "Natura & Tradizione" Vis jam
Preparation
---
Wash peaches and slice them. Put them in a pan, add 2 tablespoons of sugar (taken from the total weight) and cognac. Cover with the lid and cook on medium heat for 10 minutes. Blend everything getting a smooth cream and keep aside.
Pour into a pan fresh cream, ricotta cheese and the remaining sugar: mix everything very well with a whisk and bring on fire. Cook on a low heat for 5 minutes to dissolve sugar and blend everything with the immersion blender to homogenize the mixture.
Add chocolate and mix. Add the peach cream and mix again. Sift together flour and cocoa and add them to the dough gradually, stirring. Finally, combine chopped almonds and egg. Preheat the oven at 180 ° C. Grease and flour a mold of 20 cm and pour the dough. Complete the cake with some spoons of peach jam. Bake for about 40 minutes. Let cool the cake and serve.