Little tarts with figs jam and crumbs
The tart with jam is a favolous sweet, perfect in every moment of a day: for breakfast, for snack but also for the end of the meal.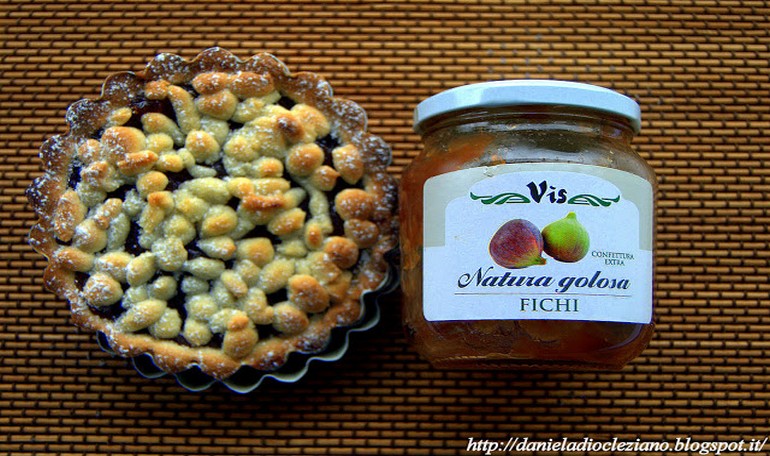 Ingredients
---
- 210g flour
- 3 Tuscan cantucci with almonds
- 1 egg
- 1 yolk
- 1 jar of figs "Natura Golosa" jam
- 70 ml. vanilla yogurt
- the tip of a spoon of grated rind of one lemon
- 50 ml. extra virgin olive oil
- 1 pinch of salt
- 80g sugar
- icing sugar q.b.
Preparation
---
Make a well in the centre of the flour and add the egg, the yolk, a pich of salt, the minced cantucci, the rind of lemon, the olive oil and the yogurt. Work all ingredients until you obtain a soft dough, form a ball and wrap it into a food film. Store in fridge for one night.

Spread the dough using a rolling pin (thickness about 3 mm). With 2/3 of the dough cover 5 mould for little tarts, and then pour over every one an aboundant spoon of jam. with the rest of dough form the classical grill over every tart.

Cook them in a pre-heated oven to 180° for about 25-30 minutes. Allow to stand for 15 minutes before serve. If you want you can sprinkle them with icing sugar.