Little sunny side up biscuits with raspberries jam
The ittle sunny side up biscuits are prepared with a shortcrust pastry and a very tasty filling, in this case we have used raspberries jam, but you can prepared them with chocolate, pistachio or other creams.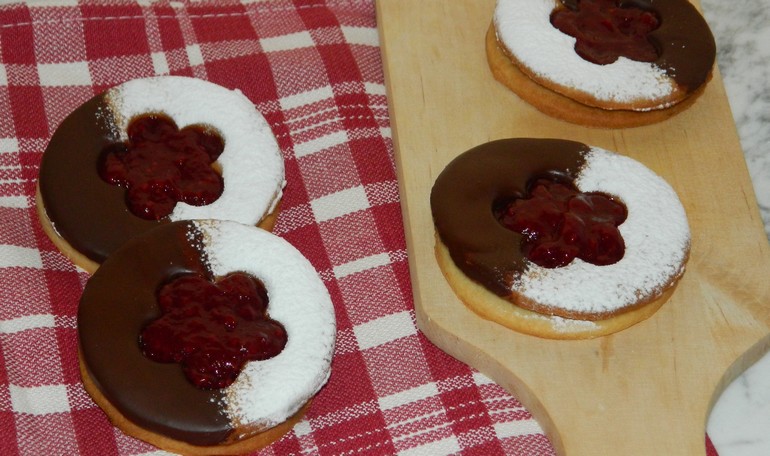 Ingredients
---
Ingredient for the shortcrust pastry:
- 300g flour
- 150g sugar
- 130g butter
- 2 eggs
- the rind of one lemon or a sachet of vanilla
For the stuffing:
- 1 jar of raspberries Vis jam
For garnish:
- 100g bitter chocolate
- icing sugar
Preparation
---
Prepare the shortcurst. When it is ready, spread the dough over a working plan previously floured. Using a round pastry cutter cut a lot of biscuit. Put them over a baking tray previously covered with baking paper. Using a flower pastry cutter cut the half of the biscuits in the middle. Cook in a pre-heated oven to 180° for about 20 minutes. Let them cool.
Melt the chocolate a bain maries and wet one side of the biscuits (with the hole in middle). Let dry, in the meantime spread over the biscuit without the hole a spoon of jam. Joint the two kind of biscuits.