Rustic bread with dried fruit and figs jam
This tasty rustic bread, enrich by dried fruit and figs jam, is perfect with a spoon of honey, with "Prosciutto di Parma" or Pecorino Siciliano cheese.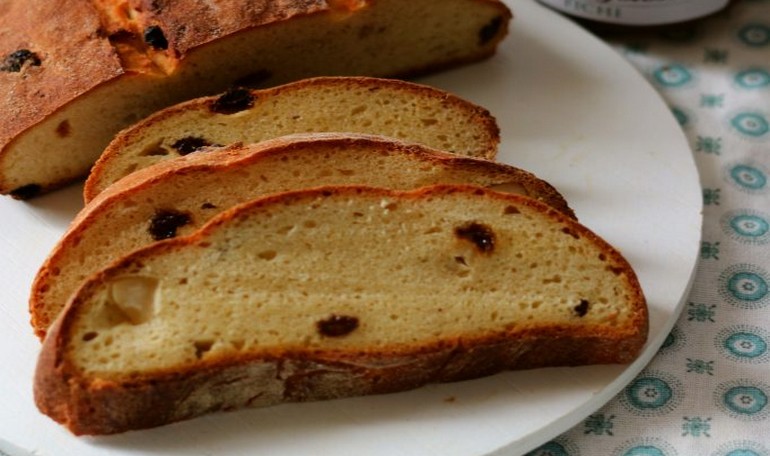 Ingredients
---
Ingredients for breads:
- 500g whole wheat flour
- 1 brewer's yeast
- 250ml water at ambient temperature
- 1 teaspoon of salt
- 1 teaspoon of sugar
- 3 spoon of Figs Vis jam
- 1 spoon of raisins
- 1 spoon of Brazil nuts
- 1 spoon of hazelnuts
- 1 spoon of cashew nuts
Preparation
---
Pour the flour over a working table, then add the brewer's yeast and the sugar. Mix all and then add the, previously dried fruit previously minced. Knead the dough and add the salt. Make a well in the flour and put into the figs jam. Amalgamate all ingredients and pour over the water. Knead all until you obain a hard ball (add flour if the ball is too soft). Put the ball into a bowl previously flour and cover it with a cloth. Leave to rise for 1 hour.
After this time divide the dough in two parts. Work the first part in order to give at the dough a oval form. Make the same with the second. Make 2 cuts in vertical over every bread and then sprinkle the surface with flour. Put the breads over a non-stick pan and cook in a pre-heated oven to 200° for about 25 minutes. Let it cool before serve.