Biscuits of shortcrust pastry without butter
Simply, genuine and light....these biscuits are perfect for the afternoon snack of every day.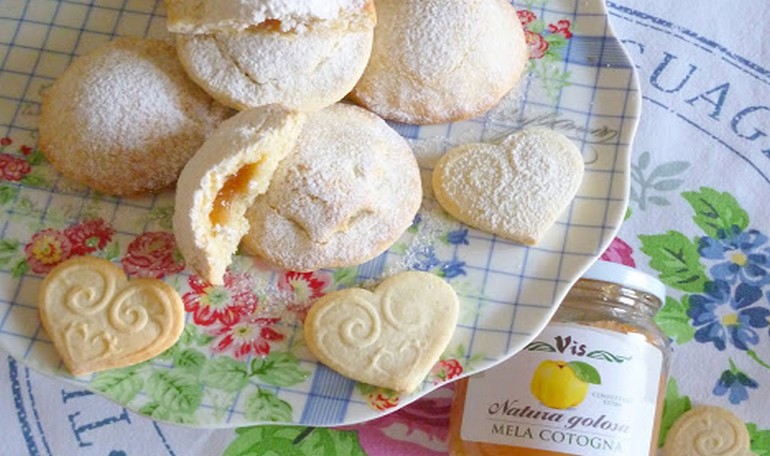 Ingredients
---
- 2 eggs
- 80g sugar
- 60ml sunflower oil
- 280-300g flour
- the rind of 1/2 lemon
- 1 tea-spoon of yeast
For filling:
- quince "Natura Golosa" jam
Preparation
---
In a bowl pour the eggs with the sugar, the oil and the rind of 1/2 lemon. Start to mix with a fork then add the flour and the yeast. When the dough becomes particulary firm transfer it on a working plan previously floured.
Continue to knead the shortcrust pastry using your hands until you obtain a homogeneous dough. Spread it using a rolling pin and then cut different disks using a dough cutter (diameter 6cm). Put a spoon of jam in the middle of every disks. Brush the sides of the biscuits with some drops of water and close than (press well the sides).
Dispose the biscuits over a baking tray previously covered with a baking paper and cook them in a pre-heated oven to 180° for about 20 minutes.
Let them cold, sprinkle the biscuits with icing sugar and serve.