Strudel biscuits with nuts and apple
The strudel biscuit is a sweet realized with a friable shortcrust pastry and s filling of quince jam and nuts.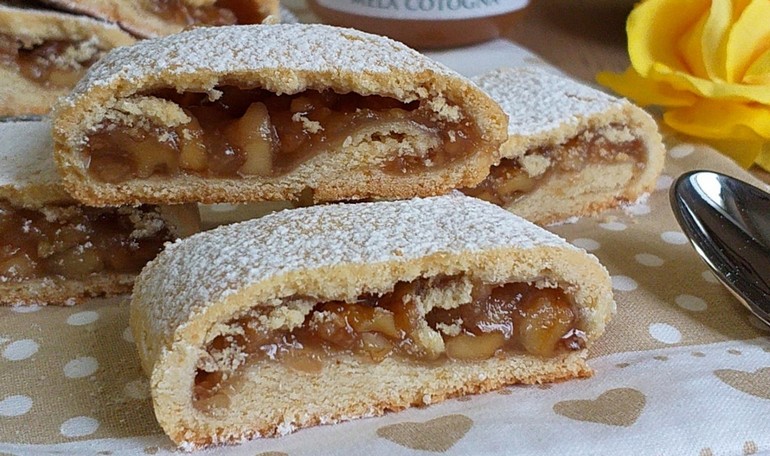 Ingredients
---
- 200g flour type 00
- 50g icing sugar
- 3g yeast
- the greted rind of one lemon
- 90g butter in pieces
- 2 yolks
- some drops of milk (if it is necessary)
For stuffing:
- 150g quince "Natura Golosa" jam
- 60g nuts in pieces
- a pinch of powder cinnamon
Preparation
---
In a bowl mix the flour with the icing sugar, the rind and the yeast. Then add the butter and start to mix. When you obtain a crubled dough add the yolks and work the pastry until you obtain a ball of shortcrust pastry. Cover it with a food-film and store in fridge. In the meantime prepare the stuffing: in a bowl mix the jam with the nuts and the cinnamon.
Take out the pastry of the fridge and spread it in order to obtain a rectangul with a high about 0.5cm. Pour the mixture of jam and nuts over the shortcrust pastry and close it in order to form a strudel. Dispose the strudel over a baking tin previously covered with a baking paper, pay attention to leave the closed part at the bottom.
Cook in a pre-heated oven to 180° for about 15-17 minutes. Let it cold and then cut in slice and sprinkle all with icing sugar.