Crostata lampone e cioccolato
Pronti a festeggiare la mamma! Noi lo facciamo con un dolce semplice, ma allo stesso tempo super goloso: la crostata lamponi e cioccolato! Volete provare a prepararla anche voi? Ecco qui la ricetta.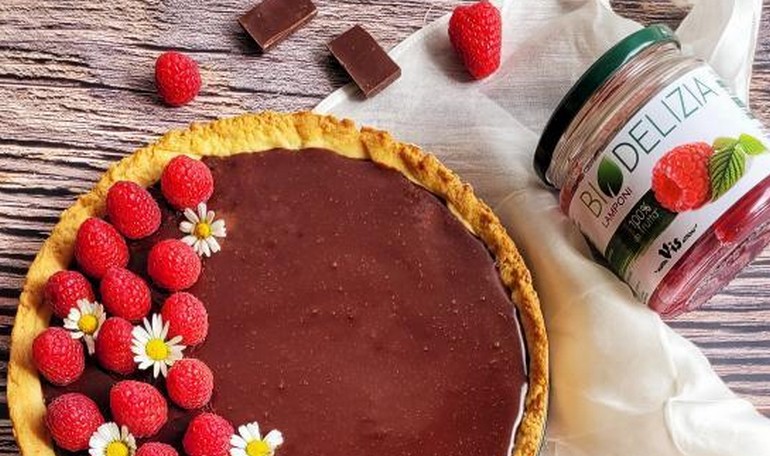 Ingredients
---
To prepare the shortcrust pastry:
- 280g flour
- 2 eggs
- 100g butter
- 100g organic cane sugar
To prepare the filling:
- 150g dark chocolate
- 120 ml whipped cream
- raspberries jam t.t.
- raspberries
Preparation
---
To prepare the shortcrust pastry:
Prepare the pastry by kneading the ingredients all together until a smooth and homogeneous dough is obtained. Spread it inside a cake pan previously greased and floured, going up with the dough on the sides. Let rest in the fridge for an hour.
Resume the cake tin and pierce the base with a fork. Cover the surface with baking paper and place dried legumes on it. Cook at 180 degrees for about 30 minutes removing the parchment paper and its weights about ten minutes before. Let the cake cool and cover the base with a few tablespoons of raspberry jam.
To prepare the filling:
Bring the cream to a boil in a saucepan. Add the chopped chocolate and stir quickly until it has melted. Turn off the heat and let cool. Pour the chocolate ganache into the tart covering all the jam. Once cooled decorate with fresh raspberries.