Orange and chocolate stars tart
This tart is a joy for the eyes and a delight for the palate: a cocoa shortcrust pastry filled with bitter orange marmalade and a chocolate and hazelnut cream...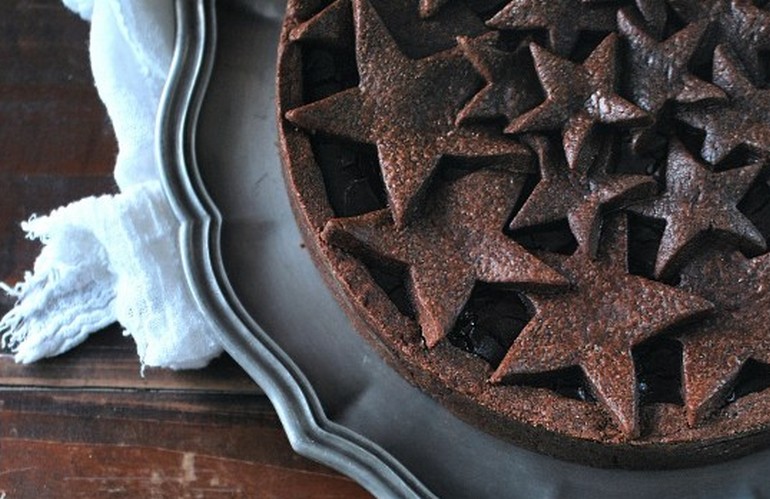 Ingredients
---
For cocoa shortcrust pastry:
- 450g 00 flour
- 50g bitter cocoa
- 250g butter
- 5 egg yolks large
- 220g brown sugar
- the seeds of a vanilla bean
- 1 pinch of salt
For the chocolate cream:
- 90g dark chocolate
- 80g brown sugar
- 30g corn starch
- 200g hazelnut milk
- 100g water
To complete:
- Biodelizia bitter orange jam
Preparation
---
Prepare the cocoa shortcrust pastry starting from butter. You can prepare the dough either by hand or in the kneader or in the Thermomix: the most important thing for the success of this special pastry is to add one ingredient at a time working very well each time.
Put the shortcrust pastry to rest in the refrigerator and in the meantime prepare the chocolate cream: chop the chocolate and keep it aside. In a saucepan pour the sugar and the starch and beat with a fork (or a small whisk). Always beating with a fork, add the water and the hazelnut milk to get a mixture without lumps. Bring on medium-low heat and, always stirring, heat the cream until it thickens. Turn off the heat and add the chocolate: stir well to melt. Transfer the chocolate cream in a deep dish or in a bowl, cover with film in contact and allow to cool completely.
Take the shortcrust pastry and divide it into 2 equal parts. Roll out the first shortcrust pastry (holding the other in the refrigerator) in a disk (not thinner!). Use it to cover the bottom and the edges of a 24 cm mold carefully greased and floured. Spread a generous layer of orange marmalade on the bottom and cover with the chocolate cream. Put the tart in the fridge.
Roll out the second pastry and cut out many stars (I have made two different sizes, but you can also make them all big or all small). Take back the tart and cover it all with the stars starting from the edge. Put the star tart in the fridge for 1 hour before baking it to keep the shape! Turn on the oven at 170 ° C and, when it has reached the temperature, bake the tart in the lower part covered with aluminum foil for 25 minutes. Remove the aluminum and continue cooking for another 25-30 minutes.
Remove from the oven and let the tart cool in the mold. Put the tart on the serving plate and let it rest in the fridge for at least 1 hour before serving.
Note:
Always keep the tart in the fridge before serving and let it rest for only 10 minutes at room temperature!
Keep the tart in a refrigerator covered with aluminum for up to 3 days