Cocoa crazy cake with orange jam and fresh fruit
A cake prepared without butter, egg and milk, but very soft, light and tasty.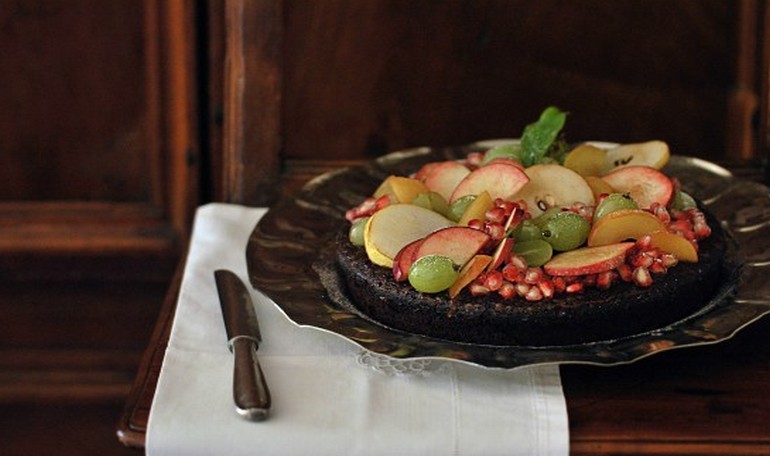 Ingredients
---
- 200g flour (I used 80 g 00 flour, 50 g soy flour, 70 g flour type 1)
- 180g brown sugar
- 20g bitter cocoa
- 1 tea spoon of baking soda
- 1 pinch of salt
- vanilla (extract, powder, in paste or seeds)
- 1 teaspoon of vinegar (white, apple or other fruit vinegar: I used raspberry vinegar)
- 80 ml seed oil
- 240 ml of water
- orange jam (for me Vis)
- fresh mixed seasonal fruit
Preparation
---
Turn on the oven at 180 ° C. Pour the flours, sugar, cocoa, baking soda and salt into the cake tin (diameter 22 cm) and mix everything with a whisk. Make 3 holes: in the first pour vanilla, in the second vinegar and in the last oil. Now cover everything with water and mix with a whisk to get a lump-free mixture. Bake for 30-35 minutes.
Remove from the oven and let it cool completely, put the cake on a plate and decorate it with a layer of orange jam and a mix of fresh seasonal fruit: I used pomegranate, apples, pears, grapes.
Note: It is important to use a non stick mold: I used an aluminum one that does not need to be buttered or floured. I think that silicone molds are valid substitutes.