Cream tart in single portions
Here you can find a new sweet idea to prepare for the mother's day. These cream tart in single portions are perfect as dessert or as afternoon snack with a cup of tea.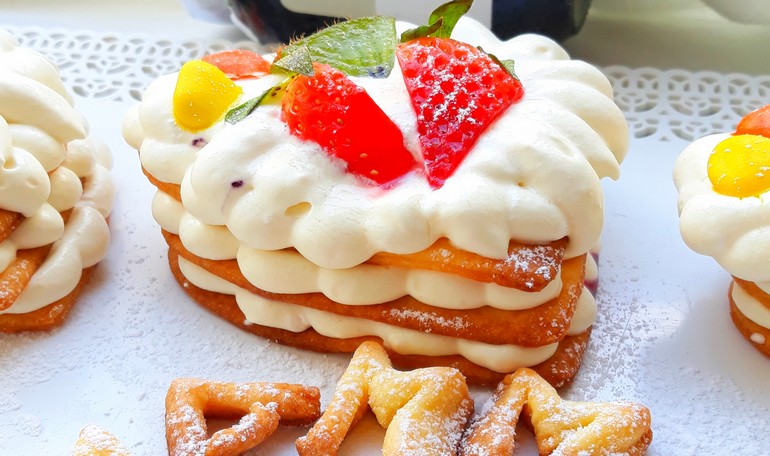 Ingredients
---
For three portions:
- 1 roll of shortcrust pastry
For the cream:
- 250 ml milk
- 1 egg
- 80g flour
- 1 packet of vanilla
- 100g sugar
For the assembly:
- 150 ml cream
- icing sugar qb
- strawberries
- kiwi
- blueberries "Natura Gololsa" jam
Preparation
---
Warm the milk (don't boil it). With a whisk mix the egg with the sugar, then add 100 ml of warm milk and the flour. Mix well all ingredients and then add the rest of the milk. Put the saucepan over a low fire and cook until you obtain dense cream. Transfer the cream into a glass bowl and cover it with a food-film.
Using a heart mould for biscuits cut the hearts (diameter 8/9 cm). Dispose them over a baking-tray previously covered with baking paper. Cook in a pre-heated oven to 180° for about 12/15 minutes. Let them cool.

In the meantimes mix the cream with the whipped cold cream. Pour all in a sac-à-poche and garnish the first heart, then put a spoon of jam in the middle of the biscuit. Overlay the second heart and garnish it with cream and put a spoon of jam in the middle. Make the same procedure also for the third heart. Complete all single portions and garnish them with fruit.