Tart with strawberries jam and custard cream
This tart with jam and cream is very fragrant and perfumed. It's simply to preparer and it is ideal to eat after dinner or for the afternoon snack of all family, maybe with a hot coffee or a fruit juice.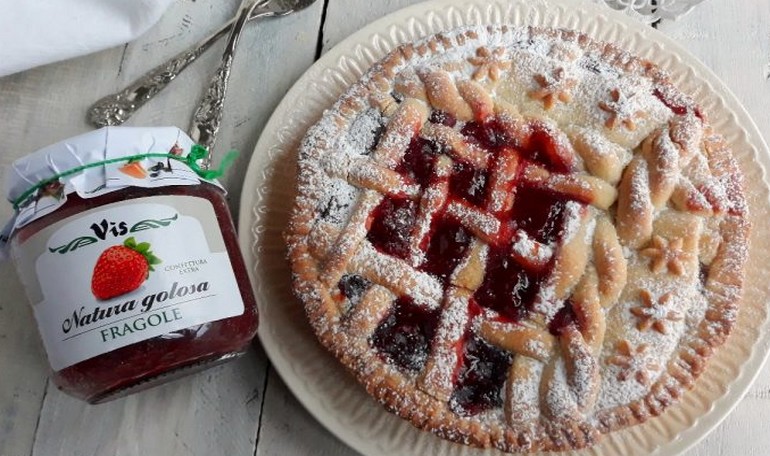 Ingredients
---
For the shortcrust pastry:
- 320g flour type 00
- 170g cold butter
- 160g sugar
- 1 pinch of salt
- 1 tea-spoon of yeast
- 2 yolks
- 1 egg
For the stuffing:
- 300ml milk
- 2 yolks
- 100g sugar
- 30g cornstarch
- 1/2 sachet of vanilla
- 250g strawberries "Natura Golosa" extra jam
Preparation
---
Prepare the custard cream, put it in a bowl and cover it with a food-film and let it cool.
In the meantime prepare the shortcrust pastry: pour over a working table the flour and make a well in the center. Add in the well two yolks and the egg, using a fork start to mix. Then add the sugar, the yeast and the salt, re-start to mix using a fork. Cut the butter in pieces, add them to the dough and start to mix using your hands. Make a ball and wrap it with a food-film. Store in fridge for about 30 minutes.
Spread the dough in a cake-tin (diameter 24cm) previously buttered. Hole the base of the tart with a fork and stuff it with a warm custard cream. Spread the jam over the cream, pay attention to don't mix the cream and the jam.
Cook in a pre-heated oven to 180° for about 30/35 minutes. Let it cold before serve. Sprinkle it with icing sugar.