Individual apricot tartlets with almond and ricotta cream
The casket of these crostatines is a delicious short pastry to the almonds, it follows a generous layer of jam to the apricots that it serves as base for a light cream of ricotta and almonds: the perfect pad on which to gently abandon the fresh apricots.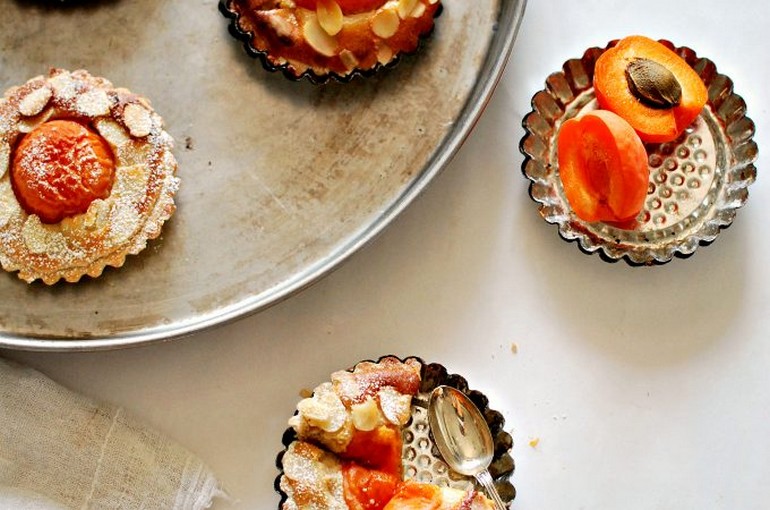 Ingredients
---
For the short pastry to the almonds:
- 150g flour 00
- 50g flour of almonds
- 80g sugar of elegant reed
- 2 yolks of middle eggs
- 100g cold butter to cubes
- the seeds di1/2 fences of vanilla.

Full to the ricotta:
- 2 egg whites of middle eggs
- 100g bald almonds
- 100g handicraft ricotta of goat (for me Spega)
- 80g sugar of reed
- the seeds di1/2 fences of vanilla

To complete:
- 4 apricots
- jam of apricots Biodelizia Apricots Vis
- sugar of reed to the veil
- thin plates almonds
Preparation
---
You prepare the short pastry with the long method, departing from the butter following the instructions that you find in the basic (direct link to the recipe in the introduction of the recipe) recipe. While the tender one rests in refrigerator, you prepare the the stuffing of ricotta: you pulverize in the mincer the almonds and then the sugar of reed so that to make him/it before more goal.

You pour the ricotta drained by his/her serum in a bowl, you unite the seeds of vanilla and work her/it with the electric whips for 5 minutes so that to make her/it soft and homogeneous. You add the sugar and you still climb on for 5 minutes. You unite the almonds and you still climb on other 5 minutes. You finish the preparation amalgamating the egg whites (not climbed on): you will get a cream that you will hold in refrigerator. You turn on the oven to 180°C.

You wash the apricots, divide her to half and you remove the core. On the floured job plan, you stretch the short pastry in a thin disk and use to dress again her/it 8 crostatine stencils. You riddle the fund with a fork, you smear a layer of jam of apricots and you cover with a layer of cream to the almonds and ricotta.

You support on every corstatina half apricot, you complete with some thin plate of almond and batches for 20-25 minutes. Sfornate, makes to cool completely, decorated with some sugar of reed to the veil and you serve.