Hearts of cheesecake with red-currant jam
These hearts have a mix of flavours that leave you open-mouthed: a base of biscuits and bitter cocoa, a cream of cheese, flakes of chocolate and, finally, a layer of redcurrant jam. A very delight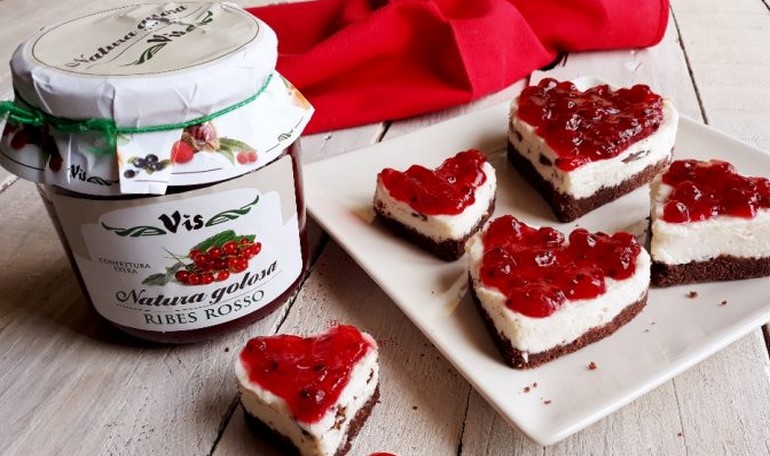 Ingredients
---
- 200g ricotta
- 200g mascarpone
- 70g sugar
- 120g Digestive biscuits
- 80g butter
- 8g fish glue
- 1 jar of redcurrant "Natura Golosa" jam
- 2 spoons of milk
- 50g bitter chocolate
- 2 teaspoons of powdered bitter cocoa
Preparation
---
Mince the biscuits in order to obtain a flour, then add the cocoa. In a saucepan melt the butter and then add it to the biscuits flour. Mix all well.
Cover a tray with a baking-paper and put over it the heart molds. Fill them with the biscuits mixuture and level the surface using your fingers.
In the meantimes: put the fish glue to soak in water and cut the chocolate in flakes. Prepare the cream: in a bowl mix the mascarpone with the ricotta and the sugar. Mix all for some minutes.
Squeeze the fish glue and put in in a saucepan with 2 spoons of milk. Melt it over low heat in a pan. Let it cold and joint it at the cream. Mix all.
Take out the hearts of the fridge and fill everyone with cream and flakes of chocolate. Level the surface and store them in fridge for abour 4 hours.
Take out the heart of the molds and put the sweets over a dish. Cover every heart with redcurrant jam.
Have a good S. Valentine day!