It is time to pumpkins, ghosts and monsters...here you can find the perfect sweet for the halloween night of your children!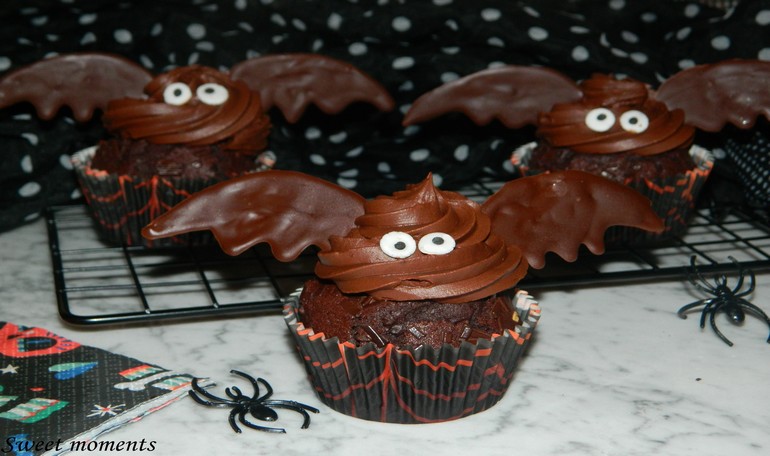 Ingredients
---
- 200g flour type 00
- 50g cocoa
- 200g sugar
- 1/2 packet of yeast
- 150ml milk
- 2 eggs
- 50g butter
- orange aroma q.b.
- vanilla aroma q.b.
- Bitter orange Biodelizia
For the ganache:
- 200g bitter chocolate
- 100g cream
To decorate:
- black and white sugarpaste
- 50g bitter chocolate
Preparation
---
In a bowl mix the flour, the sugar, the cocoa and the yeast. In another bowl mix the eggs, the 2 kinds of aroma, the milk and the melted butter. Join the liquid ingredients with the powders. Mix well using a wood spoon. When you obtain a soft and omogeneus mixture, puor it into the cups, then add a spoon of orange marmelade in everyone, finally cover them with the rest of the mixture. Cook in a pre-heated oven to 180°C for about 20 minutes. Let them cool..

In the meantime prepare the chocolate ganache: boil the cream and melt into it the bitter chocolate. Let it cold at room temperature for 30 minutes, turn it every so often then store it in fridge. Prepare the eyes: form a small ball with the white sugarpaste and more small ball with the black sugarpaste. Paste the two ball with some water. Melt the bitter chocolate at bain-marie and with a paper cone form the wings of the bats over an alluminium foil. Put the in freezer for 30 minutes.

Now assemble your bats: take the ganache and with the sac-a-poche form the body, put over it the eyes and finally with wings. Happy halloween!