Sweets with mascarpone cream and blueberries
The spring is in the air and also into our recipes. Today we propose you a soft cake garnished with a violet cream of mascarpone and blueberries.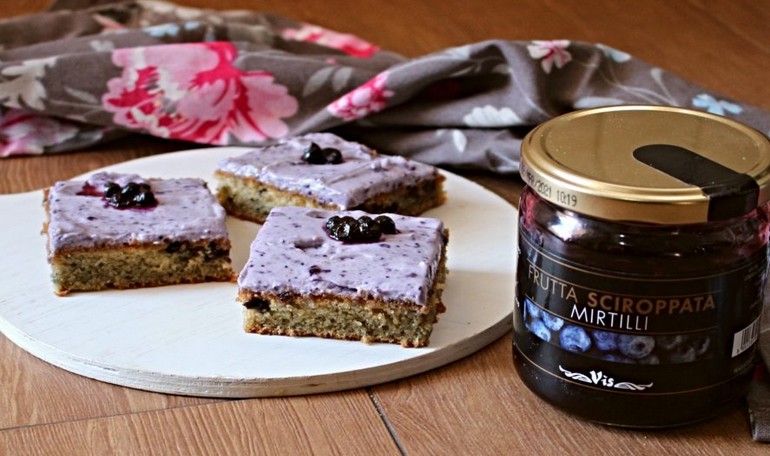 Ingredients
---
Ingredients for a rectangular baking-pan sizes 27cm x 19cm:
- 2 yogurt pots of flour
- 2 eggs
- 1 yogurt pot of brown sugar
- 1 yogurt pot of seeds oil
- 1 yogurt pot of milk
- 1 packet of yeast
- 3 spoons of blueberries in syrup
For the mascarpone cream:
- 200g mascarpone
- 1 spoon of milk
- 2 spoons of blueberries in syrup
- 30g icing sugar
Preparation
---
In a bowl whip the egg with the sugar, then add the flour, the oil and the milk. Mix until all ingredients are perfectly amalgamated. Now add the yeast, mix well and transfer the dough in a rectangular baking pan previously buttered.
Add the blueberries in syrup lightly drained and mix them to the dough making rotary movements to create the variegation. Cook the cake in a pre-heated oven to 170° for about 30 minutes. Let it cold and turn out of the baking pan and upside it-down.
Prepare the cream: mix the mascarpone with the icing sugar and the milk, when you obtain a homogeneous mixture then add the blueberries previously dripped. Work this mixture some moments and then spread it over the cake. Cut it in squares and serve.
NOTE: you can store this cake in fridge for some days.
DISCOVER ALSO...
the other Vis fruit specialties