Apples and chestnuts strudel
Here you can find a new version of the classic Tyrolean strudel: Elena has replaced the raisin with candied chestnuts...a tasty dessert that you have absolutely to try.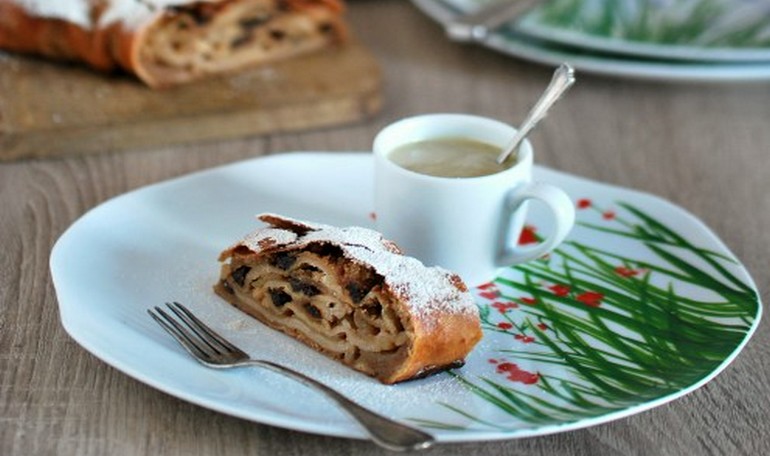 Ingredients
---
For strudel pastry:
- 250g 00 flour
- 1 egg
- 30g butter
- a pinch of salt
- 1 small glass of lukewarm water (about 80 ml)
For the filling:
-1 kg of golden apples
- the juice of a lemon
- 80g of brown sugar
- 300g candied chestnuts Vis (drained weight)
- 50g butter
- 50g breadcrumbs
- 30g pine nuts toasted
To brush:
- 1 egg yolk
- 2 tablespoons of milk
To complete:
- icing sugar
To serve:
- 200g white chocolate
- 100g milk
- 30g candied chestnut syrup
- 4 candied chestnuts
Preparation
---
Prepare the strudel pastry: put the flour on the pastry board, make a hole in the center, break the egg, put the soft butter, water and salt and knead all the the ingredients until you get a homogeneous mixture (of course you can use the mixer, the food processor or the Thermomix). Form a ball and leave it to rest on a floured table for about 20 minutes under a warm cloth.
Meanwhile prepare the filling: heat and brown in a pan 30 g of butter with breadcrumbs and keep aside to cool. Cut the candied chestnuts into small pieces. Peel the apples, clean them, cut into thin slices and sprinkle with lemon juice. Take back the dough, roll it out very very thin on a floured table, transfer it on a floured tablecloth and, to be more precise, adjust the edges cutting them to get a large rectangle.
Brush the dough with little melted butter at room temperature (optional) and sprinkle it with the breadcrumbs leaving a little free space all aroundn the edge. Now cover the breadcrumbs with the slices of apple placing them side by side in the same direction. Complete the filling with the chestnuts, pine nuts, sugar, and flakes of the remaining butter.
Close the edge left free all around over the filling and, helping with the tablecloth, roll the dough following the direction of the apples (otherwise they would break) forming the strudel. Transfer it gently on a baking tray lined with baking paper. Brush it with the beaten egg yolkand milk and bake in the preheated oven at 190 °C for about 50-60 minutes.
Meanwhile prepare the serving sauce: melt the white chocolate in a double bath together with the chestunts syrup and milk. Stir often to get a smooth and fluid sauce. Chop the chestnuts and add them to the sauce (if you want it more liquid, just add a little milk).
Remove strudel from the oven, let cool, sprinkle with icing sugar and serve with the sauce.
DISCOVER ALSO...
the other Vis fruit specialties